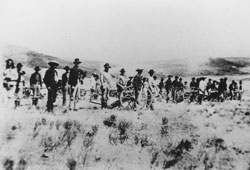 The results of the 1863 campaign are more far-reaching than the number or intensity of the several engagements might otherwise suggest. From the perspective of the Euro-American participants, confidence in the security of southern Minnesota and eastern Dakota Territory was restored as the U.S. government demonstrated willingness and an ability to protect its frontier regions, despite the continuing Civil War. As a consequence, those settlers who had stayed throughout the turmoil could feel profound relief, while those who had fled could feel encouraged to return. Thousands of young men were made aware of the fertile, unbroken, and unsettled lands awaiting the energy of a new crop of potential settlers. Growing commercial, agricultural, and transportation endeavors east of the Missouri River were enhanced by the new-found security, as this campaign ended major confrontations between Indians and Euro-Americans in northern Dakota east of the Missouri River.
From the perspective of the Dakotas, however, the results were at least destructive if not totally devastating. Of immediate consequence, the fighting resulted in loss of life and property, disruption of accustomed lifeways, and destruction of supplies needed for the coming winter. At a minimum, bands and family groups, many of whom had not been involved in the original Minnesota warfare, had been scattered and forced to leave ancestral homes and traditional hunting grounds; tribal politics and leadership as well as family relationships were disrupted; and the entire experience may have increased personal and tribal views of the wisdom of accepting dependence on government largesse. Lastly, the persistence and determination of the troops, as well as the efficiency of modern weaponry, demonstrated with frightening effect the dangers and potentially disastrous outcome of continued confrontation with a burgeoning Euro-American presence.
While these effects were thus impacting the tribes east of the Missouri, many of the Indians located west of the river, particularly the tribes of Lakota or Teton Sioux, the Cheyenne, the Atsina and Piegan or Blackfeet remained openly defiant and were becoming angrier and more recalcitrant. These more westerly tribes had issues of their own, beyond the troubles of their easterly brethren, whom they had tried to assist. The events of the Sibley and Sully campaigns were not reassuring to them at all.
With the increasing restiveness of the western Plains tribes and the unresolved needs of an expanding Euro-American migration in mind, General Sully was assigned two more expeditions into northern Dakota, in 1864 and 1865 (see Fort Rice, Fort Dilts, Killdeer Mountain Battlefield, and Sully's Heart River Corral). The Indian-white warfare initiated in Minnesota in 1862 and pursued in 1863 continued sporadically on the northern Plains for another twenty-seven years.