Sibley's forces reached Dakota Territory near Big Stone Lake on June 24, 1863. They entered present-day North Dakota on July 2 southeast of Lake Tewaukon and headed northwest towards Devils Lake (see Camp Buell, Camp Weiser, Camp Sheardown, and Camp Corning). By July 17 Sibley had learned that the fugitive Sioux had left the Devils Lake area and were moving toward the Missouri River. In order to increase his army's mobility, Sibley deposited unneeded baggage, surplus supplies, and disabled men and animals at Camp Atchison and continued the pursuit at a faster pace (see Camp Atchison, Camp Kimball, and Camp Grant, and Lake Johnson).
After battles on July 24 at Big Mound (see Big Mound Battlefield and McPhail's Butte Overlook and Camp Whitney), July 26 at Dead Buffalo Lake, and July 28 at Stony Lake, Sibley pursued the Sioux to the Missouri. He fought another engagement with the Indian warriors as their families escaped across the river on July 30.
After waiting two more days in hopes of a rendezvous with General Sully's troops, Sibley, his command short of food and his men exhausted, returned to Camp Atchison. On August 12, 1863, they headed home to Minnesota (see Camp Arnold, Buffalo Creek, and Maple Creek Crossing).
While Sibley waited for Sully at the Missouri River, Sully waited for his steamboats at Fort Pierre (at present-day Pierre, South Dakota). Sully's arm of the campaign was plagued by a succession of delays. The first occurred when the expedition's original commander, General John Cook, was replaced by Sully during the campaign's critical planning phase. Cook, as commander of the Military District of Dakota, was accused of failing to decisively respond to the Dakota War of 1862 and was removed in response to public outcry. To make matters worse, the Second Nebraska Cavalry, a major component of the command, arrived late at the Sioux City, Iowa muster site.
Unquestionably, however, the biggest factor in the command's late departure was a prolonged drought that prevented the expedition's steamboats from moving on the uncommonly low water levels of the Missouri River. On the July 25 rendezvous date, Sully's troops had just arrived at Fort Pierre and were still three weeks ahead of the steamboats. In mid-August, Sully, desperate to advance, loaded the available supplies onto borrowed wagons and marched overland toward Devils Lake with rations adequate for a mere twenty-three days.
In late August, long after Sibley had departed for Minnesota, Sully's command reached Long Lake, southeast of present-day Bismarck. Realizing that he had missed Sibley, Sully still hoped to catch up with the Dakotas. Captured informants reported that the Dakotas had escaped Sibley's army by crossing the Missouri, but had returned after Sibley departed and had moved eastward to hunt buffalo for winter provisions. Sully turned his army eastward toward the James River.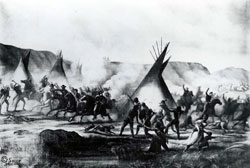 On September 3, 1863, a scouting party discovered an Indian village near Whitestone Hill. The soldiers stalled the Indians' escape long enough for Sully to bring his main force into battle position. The confrontation at Whitestone Hill is considered to be the bloodiest fight between whites and Indians in eastern North Dakota. Twenty-three soldiers and an estimated two hundred Indians were killed, including many women and children. Another 158 Indians were captured and most of the Indians' food, shelter, tools, weapons, and transportation were destroyed, leaving the survivors destitute in the face of the coming winter (see Whitestone Hill). With his mission essentially accomplished and supplies dangerously low, Sully and his men returned to winter quarters, thus ending the 1863 field campaign.