The Northwest Indian Campaign grew out of the Dakota War of 1862, an event sometimes classified as part of the U.S. Civil War and sometimes as the beginning of the Indian Wars. The uprising began on August 18, 1862, when small groups of Dakota (Sioux) Indians raided white settlers living in southern Minnesota.
The Dakotas of southern Minnesota were frustrated by years of accumulated grievances against white settlers and government officials over issues relating to reservation lands and controversial administrative practices. In addition to existing distrust, the Dakotas felt further provoked when promised annuity goods and cash due from the U.S. government were delayed. Fearing starvation after a poor harvest, and knowing government warehouses were full of food, some frustrated and angry Mdewakanton and Wahpekute Dakotas attacked many farms, several settlements, Fort Ridgely along the Minnesota River in southwestern Minnesota, and Fort Abercrombie on the Red River of the North (see Fort Abercrombie State Historic Site). An estimated 450 to 800 settlers and soldiers were killed in these attacks; Dakota losses were estimated at about 21.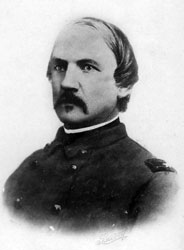 Henry Hastings Sibley
Although approximately 40,000 white settlers fled during the initial stages of the conflict, within a few days, locally raised militia began quelling the uprising. Due to the demands of the raging Civil War, few "regular" U.S. troops were available for frontier service. The available state militia troops were mostly young, poorly trained, and poorly armed. However, at Birch Coulee and again at Wood Lake, these soldiers under the command of Colonel Henry Hastings Sibley won significant victories, ending the fighting and raiding in Minnesota.
As the military arrested suspected perpetrators, many Dakotas, innocent and guilty alike, fearing retaliation, fled to other areas. It was reported that Little Crow, a principal Mdewakanton leader of the conflict, and Inkpaduta, a renegade Wahpekute, had retreated to the vicinity of Devils Lake in Dakota Territory. Others fled to other parts of Dakota Territory or to Canada. Eventually, nearly four hundred Indians were tried by a military tribunal for their alleged participation in the conflict; of these, 308 were sentenced to hang. President Abraham Lincoln commuted many of the death sentences, but thirty-eight of those convicted were hanged at Mankato, Minnesota, on December 26, 1862.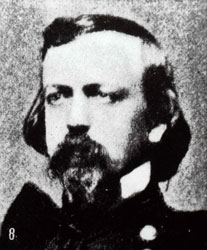 John Pope
Still, many Minnesotans wanted further retribution, including removal of all the Dakotas from Minnesota and continued arrests of escaped perpetrators. Some believed that future hostilities could be prevented only if severe punishment continued, and that the prospect of a new outbreak was likely. Approximately eight hundred Dakotas had fled the Lower Sioux reservation, and there were another 4,000 Dakotas at the more northern reservation, many of whom had vacated their villages and moved further into eastern Dakota Territory. Also, it was feared that thousands of Yanktons and Yanktonai from the eastern plains of Dakota Territory might rise up in support of their Minnesota relatives. Therefore, General John Pope, recently appointed commander of the new Military Department of the Northwest, devised a plan to trap the enemy Sioux in Dakota Territory.