The ostensible reason for Pope's decision to mount a major military campaign into Dakota Territory was his perception of a real danger of further Indian attacks on the still-nervous frontier. Ultimately, there may have been other military, economic, and political considerations just as real and just as powerful.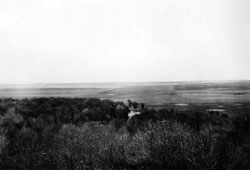 The fur trade had reached the Missouri River by 1792, and a succession of traders, explorers, scientists, and soldiers had been expounding the many values and assets of the upper Missouri region. Between the Missouri and the Minnesota border laid thousands of acres of land, sparsely populated by roving bands of nomadic Indians or small groups of sedentary tribes. Although largely unexplored and unevaluated for agricultural worth, enough information had been gathered to create a fair certainty that fortunes could be made from the resources of those lands and from the people who would venture forth to exploit them. By 1861, land companies were already offering potential town sites and farms for sale in parts of the region. Steamboats and wagon trains, filled with miners, merchants, and families headed toward the gold fields of Montana and Idaho. Also, it was known that a transcontinental railroad would be crossing these plains once the Civil War ended, offering whole new opportunities for commerce and settlement.
General Pope's plan called for one army to march from Minnesota to the Devils Lake area, engaging the Sioux along the way, or pushing them westward towards the Missouri River.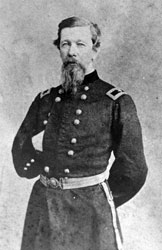 Alfred SullyMeanwhile, a second army would advance northward along the Missouri, preventing escape across the river. Those caught between the two armies would either be captured or killed. The two armies were scheduled to rendezvous on July 25, 1863, at the Missouri River, where the field commanders could determine further action.
Sibley, who had displayed outstanding leadership as a colonel of volunteers during the conflict, was appointed to lead the Minnesota arm of the joint campaign. He was a veteran fur trader and knew the Dakota people well. As a former governor of Minnesota, General Sibley was well-known and respected. General Alfred Sully, a West Point graduate experienced in Indian campaigns, was eventually chosen to command the second army. Eighteen of the state historic sites in this book relate directly to this military campaign, and the individual significance of each one is described more fully elsewhere.