At this time, the North Dakota State Historic Preservation Office does not have an online, searchable database of listed properties. The National Park Service maintains the National Register of Historic Places database, which can be accessed here: http://nrhp.focus.nps.gov/natreghome.do?searchtype=natreghome.
For a basic search:
For all properties listed in North Dakota, leave the "Resource Name" field blank and only fill in the State
For all properties listed in a specific county in North Dakota, leave the "Resource Name" field blank but fill in State and County
To search for a specific site, enter one part of the resource name. For example, enter "bridge" to search for Sorlie Bridge in Grand Forks, or enter "Mansion" to search for the Former Governor's Mansion (officially known as the Former Executive Mansion), in Bismarck
For now, resources that are within a listed historic district are not searchable. If you believe your property is located within an historic district, and you have questions regarding its status, please call the Historic Preservation Division at 701.328.2089. Please have the property's street address at hand.
North Dakota Properties listed in the National Register of Historic Places in 2015: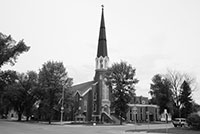 St. Olaf Lutheran Church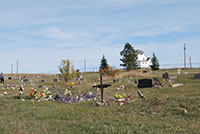 Independence Congregational Church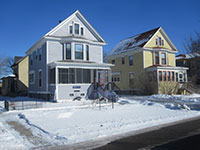 M.E. Beebe Historic District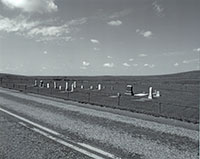 Ashley Jewish Homesteaders Cemetery
St. Olaf Lutheran Church in Devils Lake was designed by Joseph A. Shannon in the Late Gothic Style and built in 1930. Shannon began practicing in Devils Lake in 1906 and was one of the first architects licensed to practice architecture in North Dakota after the licensing law passed in 1917. Shannon was prominent in the Devils Lake area, very involved in the profession as president of the North Dakota State Board of Architecture, and St. Olaf Lutheran Church is a very different design from his main body of work.
Independence Congregational Church near Mandaree was an important gathering place in Independence on the Fort Berthold Reservation prior to the construction of the Garrison Dam. It is important at the local level as a place that embodied the religious missionary work and cultural convergence. The church is also significant at the national level as testimony of the forced relocation and incredible disruption caused by U.S. government policies.
The M.E. Beebe Historic District in Fargo consists of six houses owned, designed, or remodeled by Milton E. Beebe. Beebe started his practice in Buffalo, New York but moved to Fargo, North Dakota in 1898. The district is significant for its architecture as well as for its association with Beebe as he lived and worked from buildings in the district.
The Ashley Jewish Homesteaders Cemetery near Ashley is the only remaining site associated with the McIntosh County Jewish farming community, the largest Jewish agricultural settlement in North Dakota. The cemetery is located on land that was originally patented to Russian Jewish immigrant Sarah Schlasinger (nee Bendersky) in 1906 and the burials date from 1913-1932.
In addition to the listing of these properties, an historic context was written for Theodore B. Wells and the firm of Wells-Denbrook Architects in North Dakota, 1923-1978. This context and others are available online on our National Register Historic Contexts page.