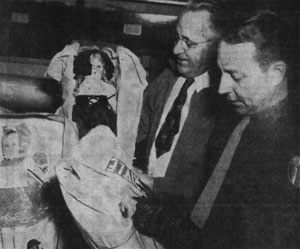 Walter Sather, chairman of the 40 ET 8 unpacking
committee, displays one of the dolls received as a
gift while Archie Gray begins to open another package.
The Bismarck Tribune,
February 17, 1949
North Dakota is one of 43 states that still has its boxcar, but one of the few states that retained most of the contents of the boxcar and has a permanent collection of the Gratitude Train gifts. The boxcar is located on the capitol grounds in Bismarck.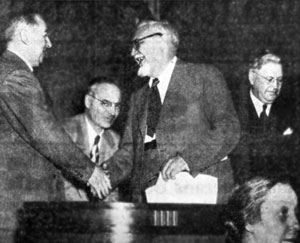 During ceremonies held at a joint session of the legislature, North Dakota Senator E.C. Stucke, Garrison, shakes hands with French Consul J.J. Viala of Chicago marking the acceptance of the North Dakota car and its contents. Also pictured are Governor Fred Aandahl and Lt. Governor C.P. Dahl.
The Bismarck Tribune, February 19, 1949