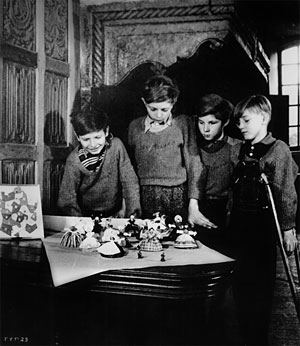 Four wounded war orphans examine the dolls
they made as their contribution to the
French Gratitude Train.
French Gratitude Train- 29 TYT-23
Even though many French families had very little left after the war, over 6,000,000 families contributed something to fill the cars. The 52,000 gifts included children's drawings, ashtrays made of broken mirrors, worn shoes, hand crocheted doilies, a jeweled Legion d'Honneur once presented to Napoleon, the bugle which signaled the Amistice signing at Compiegne in 1918, fifty rare paintings, the first motorcycle ever built, and a Louis XV carriage. The President of France contributed forty-nine delicate Sevres vases and the city of Lyon provided dozens of silk wedding dresses. By 1948 the boxcars were filled to capacity. When the Magellan sailed from LeHavre, nine thousand gifts had to be left on the docks.