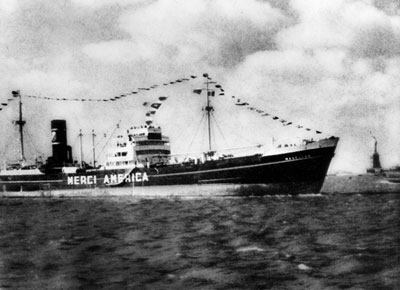 The
Magellan
sailing into New York Harbor.
Courtesy of
American Heritage
Greeted by waves of Air Force planes, fireboats with columns of spraying water, and a flotilla of small boats, the ship Magellan, with the message on its hull, Merci, America, docked at Weehawken, New Jersey. President Truman had signed into law a special resolution permitting the train and its cargo to enter the United States duty free. Since the wheels on the French train were eight inches wider than American rails, the 40 ET 8s were transported on flatcars for their journey across the United States.
In the next several weeks, each state held parades and ceremonies welcoming a French representative and their designated boxcar.