Introduction | Dorry's Diary | Roberts' Diary | Activity 1 | Activity 2 | Additional Resources
Mae Roberts Intro | Part 1 | Part 2 | Part 3 | Part 4
Click image for full-size version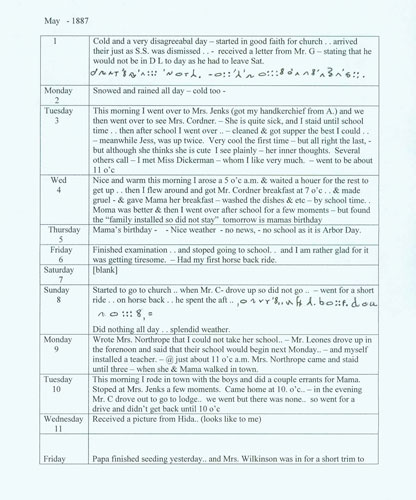 May - 1887
1
Cold and a very disagreeabal day – started in good faith for church . . arrived their just as S.S. was dismissed . . - received a letter from Mr. G – stating that he would not be in D L to day as he had to leave Sat.
Monday 2
Snowed and rained all day – cold too -
Tuesday 3
This morning I went over to Mrs. Jenks (got my handkerchief from A.) and we then went over to see Mrs. Cordner. – She is quite sick, and I staid until school time . . then after school I went over .. – cleaned & got supper the best I could . . – meanwhile Jess, was up twice. Very cool the first time – but all right the last, - but although she thinks she is cute I see plainly – her inner thoughts. Several others call – I met Miss Dickerman – whom I like very much. – went to be about 11 o'c
Wed 4
Nice and warm this morning I arose a 5 o'c a.m. & waited a houer for the rest to get up . . then I flew around and got Mr. Cordner breakfast at 7 o'c . . & made gruel - & gave Mama her breakfast – washed the dishes & etc – by school time. . Moma was better & then I went over after school for a few moments – but found the "family installed so did not stay" tomorrow is mamas birthday
Thursday 5
Mama's birthday - - Nice weather - no news, - no school as it is Arbor Day.
Friday 6
Finished examination . . and stoped going to school. . and I am rather glad for it was getting tiresome. – Had my first horse back ride.
Saturday 7
[blank]
Sunday 8
Started to go to church .. when Mr. C- drove up so did not go .. – went for a short ride . . on horse back . . he spent the aft ..
Did nothing all day . . splendid weather.
Monday 9
Wrote Mrs. Northrope that I could not take her school.. – Mr. Leones drove up in the forenoon and said that their school would begin next Monday.. – and myself installed a teacher. – @ just about 11 o'c a.m. Mrs. Northrope came and staid until three – when she & Mama walked in town.
Tuesday 10
This morning I rode in town with the boys and did a couple errants for Mama. Stoped at Mrs. Jenks a few moments. Came home at 10. o'c.. – in the evening Mr. C drove out to go to lodge.. we went but there was none.. so went for a drive and didn't get back until 10 o'c
Wednesday 11
Received a picture from Hida.. (looks like to me)
Friday
Papa finished seeding yesterday.. and Mrs. Wilkinson was in for a short trim

Mae Roberts Intro | Part 1 | Part 2 | Part 3 | Part 4