Introduction | Dorry's Diary | Roberts' Diary | Activity 1 | Activity 2 | Additional Resources
Mae Roberts Intro | Part 1 | Part 2 | Part 3 | Part 4
Click image for full-size version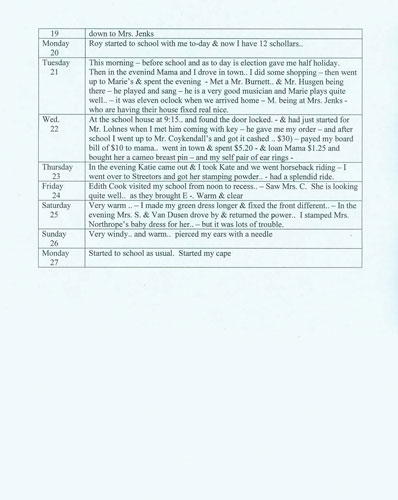 19
down to Mrs. Jenks
Monday 20
Roy started to school with me to-day & now I have 12 schollars..
Tuesday 21
This morning – before school and as to day is election gave me half holiday. Then in the evenind Mama and I drove in town.. I did some shopping – then went up to Marie's & spent the evening - Met a Mr. Burnett.. & Mr. Husgen being there – he played and sang – he is a very good musician and Marie plays quite well.. – it was eleven oclock when we arrived home – M. being at Mrs. Jenks - who are having their house fixed real nice.
Wed. 22
At the school house at 9:15.. and found the door locked. - & had just started for Mr. Lohnes when I met him coming with key – he gave me my order – and after school I went up to Mr. Coykendall's and got it cashed .. $30) – payed my board bill of $10 to mama.. went in town & spent $5.20 - & loan Mama $1.25 and bought her a cameo breast pin – and my self pair of ear rings -
Thursday 23
In the evening Katie came out & I took Kate and we went horseback riding – I went over to Streetors and got her stamping powder.. - had a splendid ride.
Friday 24
Edith Cook visited my school from noon to recess.. – Saw Mrs. C. She is looking quite well.. as they brought E -. Warm & clear
Saturday 25
Very warm .. – I made my green dress longer & fixed the front different.. – In the evening Mrs. S. & Van Dusen drove by & returned the power.. I stamped Mrs. Northrope's baby dress for her.. – but it was lots of trouble.
Sunday 26
Very windy.. and warm.. pierced my ears with a needle
Monday 27
Started to school as usual. Started my cape

Mae Roberts Intro | Part 1 | Part 2 | Part 3 | Part 4