Introduction | Dorry's Diary | Roberts' Diary | Activity 1 | Activity 2 | Additional Resources
Mae Roberts Intro | Part 1 | Part 2 | Part 3 | Part 4
Click image for full-size version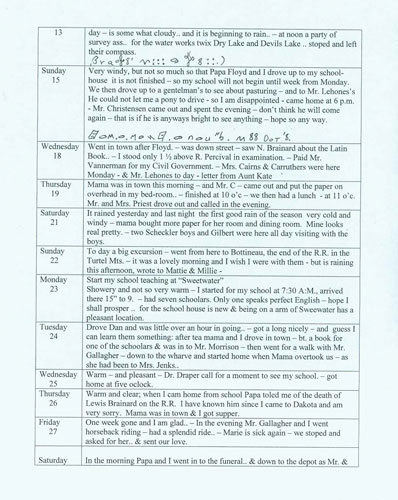 13
day – is some what cloudy.. and it is beginning to rain.. – at noon a party of survey ass.. for the water works twix Dry Lake and Devils Lake .. stoped and left their compass.
Sunday 15
Very windy, but not so much so that Papa Floyd and I drove up to my school-house it is not finished – so my school will not begin until week from Monday. We then drove up to a gentelman's to see about pasturing – and to Mr. Lehones's He could not let me a pony to drive - so I am disappointed - came home at 6 p.m. - Mr. Christensen came out and spent the evening – don't think he will come again – that is if he is anyways bright to see anything – hope so any way.
Wednesday 18
Went in town after Floyd. – was down street – saw N. Brainard about the Latin Book.. – I stood only 1 ½ above R. Percival in examination. – Paid Mr. Vannerman for my Civil Government. – Mrs. Cairns & Carruthers were here Monday - & Mr. Lehones to day - letter from Aunt Kate
Thursday 19
Mama was in town this morning – and Mr. C – came out and put the paper on overhead in my bed-room.. – finished at 10 o'c – we then had a lunch - at 11 o'c. Mr. and Mrs. Priest drove out and called in the evening.
Saturday 21
It rained yesterday and last night the first good rain of the season very cold and windy – mama bought more paper for her room and dining room. Mine looks real pretty. – two Scheckler boys and Gilbert were here all day visiting with the boys.
Sunday 22
To day a big excursion – went from here to Bottineau, the end of the R.R. in the Turtel Mts. – it was a lovely morning and I wish I were with them - but is raining this afternoon, wrote to Mattie & Millie -
Monday 23
Start my school teaching at "Sweetwater"
Showery and not so very warm – I started for my school at 7:30 A:M., arrived there 15" to 9. – had seven schoolars. Only one speaks perfect English – hope I shall prosper .. for the school house is new & being on a arm of Sweewater has a pleasant location.
Tuesday 24
Drove Dan and was little over an hour in going.. – got a long nicely – and guess I can learn them something: after tea mama and I drove in town – bt. a book for one of the schoolars & was in to Mr. Morrison – then went for a walk with Mr. Gallagher – down to the wharve and started home when Mama overtook us – as she had been to Mrs. Jenks..
Wednesday 25
Warm – and pleasant – Dr. Draper call for a moment to see my school. – got home at five oclock.

Thursday 26
Warm and clear; when I cam home from school Papa toled me of the death of Lewis Brainard on the R.R. I have known him since I came to Dakota and am very sorry. Mama was in town & I got supper.
Friday 27
One week gone and I am glad.. – In the evening Mr. Gallagher and I went horseback riding – had a splendid ride.. – Marie is sick again – we stoped and asked for her.. & sent our love.
Saturday
In the morning Papa and I went in to the funeral.. & down to the depot as Mr. &

Mae Roberts Intro | Part 1 | Part 2 | Part 3 | Part 4