Introduction | Territorial Documents | Celebration | Gov Letters | Oaths | Activity
Back to Gov Letters | Jan. 29, 1865 | Feb. 2, 1865 | Feb. 3, 1865 | Dec. 24, 1864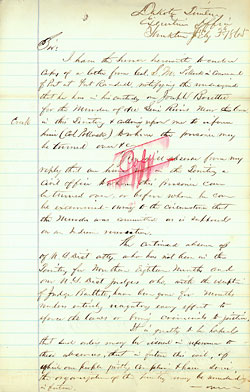 Dakota Territory
Executive Office
Yankton Feby 3rd 1865
Sir:
I have the honor herewith to enclose copy of a letter from Co. S. M. Pollock in command of Post at Fort Randall notifying the undersigned that he has in his custody one Joseph Borette for the murder of one Sevi Rivers near Crow Creek in this Territory and calling upon one to inform him (Col Pollock) to whom the prisoner may be turned over, etc.
You will observe from my reply that we have not in the Territory a civil officer to whom this prisoner can be turned over, or before whom he can be examined owing to the circumstance that the murder was committed as is supposed on an Indian reservation.
The continued absence of of [sic] U.S. Dist Atty who has not been in the Territory for more than eighteen months and our U.S. Dist Judges who, with the exception of Judge Bartlett, have been gone for months render entirely negative every effort to enforce the laws or bring criminals to justice.
It is greatly to be hoped that such order may be issued in reference to these absences, that in future this evil, of which our people justly complain & have since the organization of the Territory may be remedied in future.
-over-
I am Sir,
Very Respectfully
Your Obt. Svt.
Newton Edmunds
Governor
Hon W. W. Burleigh, M.C.
Washington
D. C.