Introduction | Territorial Documents | Celebration | Gov Letters | Oaths | Activity
Back to Gov Letters | Jan. 29, 1865 | Feb. 2, 1865 | Feb. 3, 1865 | Dec. 24, 1864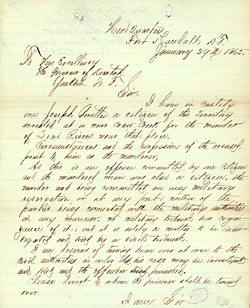 Headquarters
Fort Randall DT
January 29th 1865
To His Excellency
The Governor of Dacotah
Yankton, D.T.
Sir:
I have in custody one Joseph Borette a citizen of this territory arrested at or near Crow Creek for the Murder of Sevi Rivers near that place.
Circumstances and the confession of the accused point to him as the murderer.
As this is an offence committed by one citizen and the murdered man was also a citizen, the murder not being committed on any military reservation or at any post, neither of the parties being connected with the military authorities in any manner, no military tribunal has cognizance of it, but it is solely a matter to be investigated and tried by a civil tribunal.
I am desirous of turning him over at once to the civil authorities in order that his case may be investigated and tried and the offender punished.
Please direct to whom the prisoner shall be turned over.
I am Sir
Very Respectfully
Your Obt Servant
S. M. Pollock
Col 6th Iowa Cav'yComdg Post