Punitive Measures
The measures provided at your last session for the removal of certain Indian tribes have been carried into effect. Sundry treaties have been negotiated, which will in due time be submitted for the constitutional action of the Senate. They contain stipulations for extinguishing the possessory rights of the Indians to large and valuable tracts of lands. It is hoped that the effect of these treaties will result in the establishment of permanent friendly relations with such of these tribes as have been brought into frequent and bloody collision with our outlying settlements and emigrants.
Abraham Lincoln, December 8, 1863, Third State of the Union Address.
Yielding to political pressure from outraged citizens in Minnesota, Iowa, and Dakota Territory, the War Department launched punitive expeditions into Dakota Territory in 1863 and 1864 seeking the persons who had participated in the fighting in Minnesota. The expeditions included volunteers from Iowa and Nebraska. The army engaged Dakota (Sioux) people at Big Mound, Whitestone Hill, and Killdeer Mountains during 1863 and 1864. A new military post, Fort Rice, was placed in the heart of Dakota hunting grounds along the Missouri River during the summer of 1864.
Maj. Gen. Pope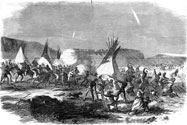 Sully at Whitestone Hill, 1863

Gen. Sully
Click here for more information about Whitestone Hill's History.
Click here for more information about the Sibley & Sully Expeditions.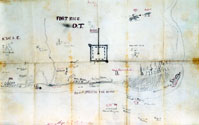 Fort Rice, July 1864

Gen. Sibley's Expedition Pursuing the Sioux, 1863

Gen. Sibley