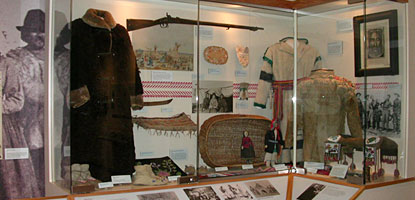 Permanent Exhibit Gallery
Follow the river graphic in the sidewalk inside to discover 100 million years of the region's history. See fossils from a time before glacial Lake Agassiz as well as stone and bone tools of the first peoples. Examine the Red River oxcart and other objects of Pembina's fur trade industry. Investigate the history of frontier military forts and the U.S. and Canadian border survey. Learn about the diverse peoples who call Pembina home, including Native American peoples and Euro-American settlers. Find out about agriculture and transportation industries that continue to play a role in the economics of the Pembina region today.
Temporary Exhibit Gallery
This 1000-square-foot gallery hosts changing exhibits that highlight specific topics in the state's history, featuring the diverse collections of the State Historical Society of North Dakota.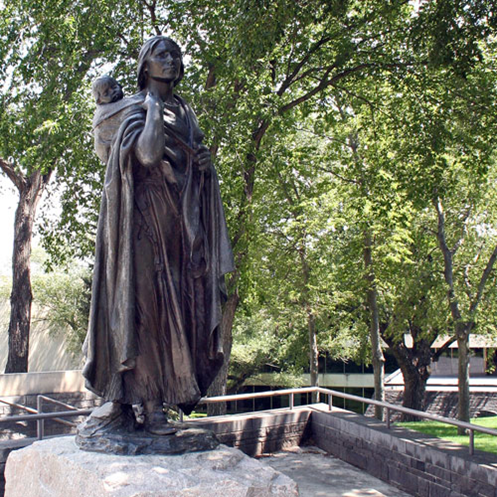 CREATING SAKAKAWEA
New Exhibit Now Open
For over 200 years Sakakawea has fascinated the American public, becoming a symbol variously for women's suffrage, manifest destiny, and most recently American Indian cultural inclusivity. She is a blend of legend and mythology balanced on a narrow foundation of historical fact. This exhibit explores both the statue's history and what Sakakawea has meant to different people at different times in history.

Follow Pembina State Museum on Facebook!