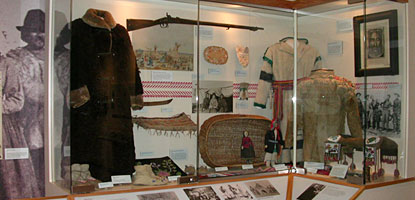 Permanent Exhibit Gallery
Follow the river graphic in the sidewalk inside to discover 100 million years of the region's history. See fossils from a time before glacial Lake Agassiz as well as stone and bone tools of the first peoples. Examine the Red River oxcart and other objects of Pembina's fur trade industry. Investigate the history of frontier military forts and the U.S. and Canadian border survey. Learn about the diverse peoples who call Pembina home, including Native American peoples and Euro-American settlers. Find out about agriculture and transportation industries that continue to play a role in the economics of the Pembina region today.
Temporary Exhibit Gallery
This 1000-square-foot gallery hosts changing exhibits that highlight specific topics in the state's history, featuring the diverse collections of the State Historical Society of North Dakota.

How Does Your Garden Grow? Gardening in North Dakota
April 6, 2012 – February 2014
Short growing seasons and cold winters have always challenged North Dakota gardeners. From native Mandan and Hidatsa gardeners to the modern NDSU extension offices, people have worked to produce fruit and vegetable varieties that are cold-hardy, fast-growing, and drought resistant. This exhibit follows a garden's progress from planting, to harvest, and finally preservation. Historic garden implements and original seed catalogs are featured.
For even more information, please visit the How Does Your Garden Grow? Online Exhibit.

Follow Pembina State Museum on Facebook!