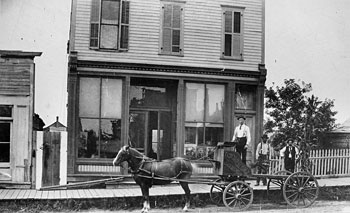 Will Seed Company Wagon and Store SHSND#0029-028Will presented himself as the friend of the gardener and the farmer, but in subsequent years his essays would take a position that undercut the rosy picture of the northern plains that Dakota boomers painted for prospective settlers. In 1887, he apologized for not being able to fill all the orders he received because 1886 was not a "favorable year for growing vegetables." In 1887, he announced "my little catalogue of NORTHWESTERN GROWN SEEDS AND TREES," suggesting that perhaps the northern portion of the territory was not quite as warm and humid as boomers were insisting it was and required specially grown seeds. He continued that essay by modestly stating that his vegetables would not "require several teams of horses to move one root or tuber, and none of the cabbage heads grew to such an enormous size that it required a ladder to climb upon them. . . ." No, his seeds were as good as anyone's, but had been grown in Burleigh County and could be relied upon to perform well in this climate.
By 1896, Will was presenting some of his own vegetable varieties including Early Dakota Sugar Corn. He also began to use the key words which horticulturists all over the area, especially at the NDAC, would use consistently as they developed new varieties: "Earliest, Hardiest, and Best."
Will often entered his vegetable and field crops, especially corn, in competitions. His 1898 catalog had a picture of the medal he won at the World's Columbian Exposition (Chicago, 1892). By this time, his sweet corn varieties included Banana Cream Sugar Corn, one of his own varieties.