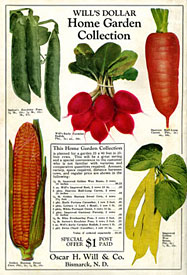 Will's 1930 catalog back cover
SHSND# 10190George Will introduced a new generation to the company philosophy in the 1928 essay. In praising his father's work, George wrote:
Nor have vegetable varieties been neglected in our work. In addition to the many native Indian vegetable which we have improved and introduced, we have continually experimented with new and special variety of all sorts and have determined those best suited to this territory and given them place in our catalog, thus introducing them to the Northwest. We feel we have the most perfectly adapted list of vegetables suited to short season and rugged conditions that is issued. . .
The following year, the phrase "earliness, hardiness, wind and drought resistance" – characteristics of the northern plains – was again repeated, echoing now, not only Oscar Will's plan for selecting and breeding, but the voice of Professor A. F. Yeager. The gardener's chant outlasted the earlier boomers' refrain of "just like Iowa."
Will offered two special collections for gardeners in the 1930 catalog. The Indian Garden Collection was still available (it would disappear from the catalog within the next couple of years) but it was now suggested for use by Scouts, Campfire Girls and similar organizations as a "Nature Project" or for schools wanting to plant a native garden. It included squash, corn, sunflowers, watermelon, red beans, yellow beans, popcorn, Blue Flower corn, sweet corn, and pumpkins. The price was seventy cents. (p. 3) The other collection was an economical selection of seeds called the Home Garden Collection, designed for a 25 x 40 foot garden. The collection included wax beans, beets, carrots, Golden Bantam sweet corn, cucumbers, two kinds of lettuce, turnips, parsnips, two kinds of peas, radish, and Swiss chard. The cost was one dollar, or $1.09 post paid. This collection continued to appear in the catalog, often featured on the back cover, but with slightly different titles. (p. 1)