Intro | Documents | Historic Record | Whitetail Deer | Deer Documents | Pheasants |
Bird Documents | Photos | Activities
From 1913 on, the commissioner of Game and Fish published the laws so that hunters would know what the limits were. For many years, these books were pocket sized (5 ĺ X 3 1/2 inches) and contained the specifics of the law. Today, NDG & F issues a proclamation for different types of hunting as small brochures which most hunters carry in their cars, not their pockets.
The Foreword of the first Game and Fish Laws booklet (1913) served as a quick check for hunters on game laws and bag limits. Though it states that deer are protected until 1916, this date was pushed back during several legislative sessions until deer season finally re-opened in 1931.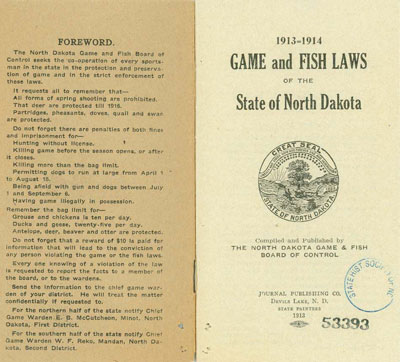 The back page of the 1913 G & F laws included this chart which also gave hunters a quick look at hunting and fishing seasons for various game animals. This was important for hunters because for many years there were no limits on hunting seasons for some game birds.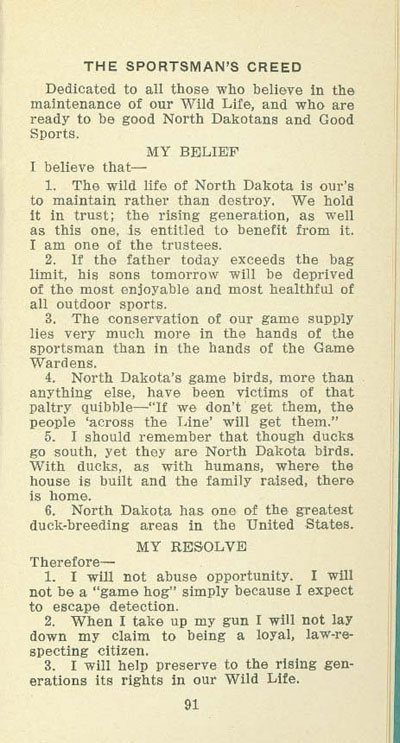 Usually the Game and Fish Laws booklet presented hunting and fishing laws, but occasionally the commissioner attempted to instill ideas about sportsmanship and conservation into hunters and included such things as The Sportsmanís Creed.