Introduction | The Fire | New Capitol | The Strike | Cornerstones | Activities
The Fire | Cause | Fire Marshall Report | William Laist
William Laist (1866 – 1936) was in the best position to understand the old capitol and its security procedures. He had begun working in the capitol in 1893 as a young man who had recently emigrated from Germany. By 1895, he had a full time job as a janitor. Over the years he became well-known about the building and was a particular favorite of the legislators. After he died, some legislators recalled that he would lead them in singing German songs while waiting for the governor to sign bills.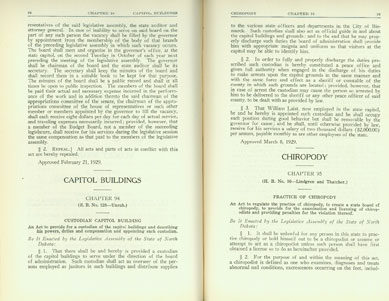 Chapter 94 of Civil Code: Capitol Buildings
Laist took his work very seriously and was honored in 1929 when the legislature passed a very unusual bill in his name. Senate Bill 128 established the job of "custodian of the capitol buildings" whose duties were to supervise the janitors, distribute supplies, and guide visitors around the building. Section 3 of the bill named William Laist as the custodian. It may not be necessary to point out that identifying a state employee by name in a legislative bill is an extremely rare event.
Laist had a military appearance in his official blue wool uniform with gold braid and buttons. He enjoyed a substantial salary set by law, but in 1932 when hard times forced other capitol employees to take a pay cut, Laist voluntarily asked for a pay cut so he would not have a position more privileged than other state employees.
When the new capitol building opened, Laist was the chief guide, leading visitors around the new building in his sharp blue uniform.
When William Laist died in 1936, his life and service to the state were honored again by the attendance of several state legislators, the current governor, and former governors at his funeral.