Intro | Frontier Scout | Wales | Trobriand | Surgeon Reports | Marsh | Indian Gardens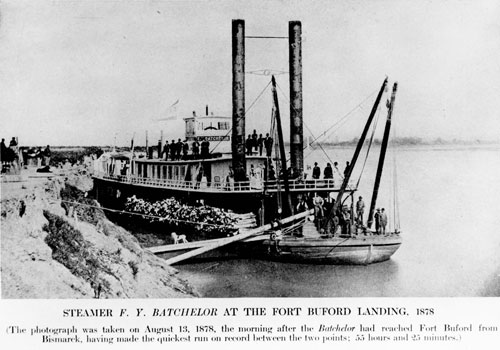 The steamboat
Batchelor
ties up at Fort Buford in
1878. Boats of this size brought passengers and
supplies during the short navigation season
on the Missouri River. A4234
The Missouri River, treacherous and shifting, was the main lifeline for the remote Army posts. The boats were faster than overland transport and could carry heavy freight. If a boat was delayed or sunk in the river, the Army posts were deprived of mail, pay, and food. Captain Grant Marsh was one of the most respected and experienced steamboat captains of the Missouri River. He understood the importance of bringing the steamboats upriver to the Army posts.
In the Fall of 1869, Captain Marsh was hired by the Northwestern Transportation Company to take winter supplies to Army posts on the Missouri. His boat was the North Alabama, a good, fast boat of 260 tons. He left Sioux City, Iowa on October 1 with a load of vegetables and other supplies for the winter, as well as the Army paymaster. It was late in the season for steamboats, but the weather was warm and Marsh reached Forts Randall, Hale, Sully, Rice, and Stevenson where boatmen unloaded potatoes, turnips, onions, cabbages, and apples.
On October 17, the weather began to change. The temperature dropped; ice began to form on the river. Marsh was worried about the vegetables freezing before he could get to Fort Buford. To preserve them, he moved the potatoes from the deck to the hold where small wood fires kept the temperature above freezing. To prevent accidental burning of the entire boat, Captain Marsh ordered that the fires be guarded at all times. The vegetables did not freeze, but Marsh had other problems to face. Drift ice in the river prevented the boat from moving as swiftly as she could under better conditions. Twenty-five miles short of Fort Buford, the North Alabama became embedded in ice.
On board the steamboat were two Army Scouts of the Arikara nation. They were sent overland to Fort Buford to notify the commanding officer that the boat was nearby, stuck in ice, and that precious vegetables were on board. The next day, covered wagons from Buford arrived under mounted military guard. The vegetables (and the Army paymaster) were transported to Buford where they were safely stored for the winter.
Marsh expected that the North Alabama would stay in the ice for the entire winter, but a few days later, temperatures rose and the boat moved into the current and returned to Sioux City. The North Alabama remained in service until October 27, 1870, when she struck a snag and sank in the river near the Nebraska shore. None of her crew drowned.
Source: Joseph Mills Hanson, The Conquest of the Missouri: being the story of the life and exploits of Captain Grant Marsh. Chicago: A. C. McClurg & Co. 1916 (3rd edition)