Intro | Frontier Scout | Wales | Trobriand | Surgeon Reports | Marsh | Indian Gardens
Reports On Scurvy | "Sanitary" Transciption
This excerpt on sanitary conditions at Fort Rice, Dakota Territory is from Frontier Scout volume 1, number 2 (June 22, 1865):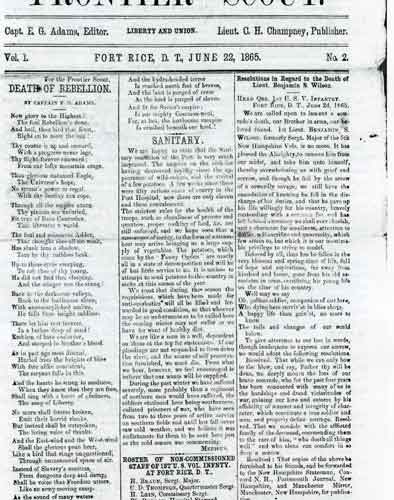 We are happy to state that the Sanitary condition of the post is very much improved. The number on the sick-list having decreased rapidly since the appearance of wild onions, and the arrival of a few potatoes. A few weeks since there were fifty serious cases of scurvy in the Post Hospital, now there are only eleven and those convalescent.
The strictest rules for the health of the troops, such as cleanliness of persons and quarters, proper cooking of food, etc., are still enforced, and we hope soon that a messenger of mercy, in the form of a steamboat may arrive bringing us a large supply of vegetables. The potatoes, which came by the "Fanny Ogden" are nearly all in a state of decomposition and will be of but little service to us. It is useless to attempt to send potatoes to this country in sacks at this season of the year.
We trust that during the season the requisition, which have been made for anti-scorbutics will all be filled and forwarded in good condition, so that whoever may be so unfortunate as to be exiled here the coming winter may not suffer as we have for want of healthy diet.
We are like a man in a well, dependent on those at the top for sustenance. If our pleadings are not responded to from down the river, and the means of self- preservation furnished, we must die. From what we hear, however, we feel encouraged to believe that our wants will be supplied.
During the past winter we have suffered severely, more probably than a regiment of northern men would have suffered, the soldiers stationed here being southerners, enlisted prisoner of war, who have seen from two to three years of active service on southern fields and until last fall never saw cold weather, and we believe it was unfortunate for them to be sent here just as the cold season was commencing.
Medicus