Introduction | Heart River Battle | Battle of Whitestone Hill | Activity
Battle Accounts: Sully | Kingsbury |Furnas | Thomson | Newspaper
James M. Thomson, a private of Company F 6th Iowa Cavalry, kept a diary of his experiences in what he identified as the "Three Year War with Indian in Dakota." Most of his entries are brief one or two line notes in pencil. His entries concerning the Battle of Whitestone Hill included a great deal of detail taking up five pages of his pocket-sized diary. These pages have been transcribed exactly has Thomson wrote them. Only a few periods have been inserted and the spelling of a few words have been changed for clarity.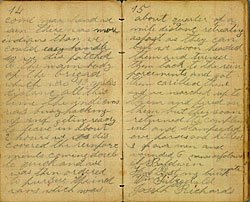 September the 3 [18]63
We marched 20 miles to Camp no 32
Still the 3 63
We marched about 40 miles until 3 o'clock P M when we discovered a camp of indians when we was ordered to dismount and examine our arms which was soon done and we was mounted again soon and ordered to aproach the camp which was soon exacuted and when come near hand we seen there was more Indians than we could easy handle so we dispatched to the main body of the brigad which was 10 miles distant all this time the Indians was busy packing up and getting ready to leave[.] in about 2 hours we discovered the reinforcements coming double quick and we was then ordered to pursue the Indians which was about quarter of a mile distant retreating as fast as they can[.] but we soon headed them and turned them back to the reinforcments and got them [corralled] then and we marched up to them and fired on them but they soon returned the complemint and stampeded our horses and killed 3 of our men and wounded 6 names as follows.
A Baldwin
H S Post my bunk mate
Wm. Fitzgerald
Joseph Richards
Jaosepp Shallar
Wm. Samons
Killed
Capt. B. Wagoner
Wm. G. Armstrong
Elg. McCalaster
and it was so dark that we could not see and we picked up the wounded and formed a hollow square and laid on our arms all night[.] at day light the next morning we heard that all the forces had retreated a mile and a half so we got the dead [men's] weapons and [carried] the wounded to camp so there was skirmishing for 2 days and 2 men killed and one of our men wounded in the head with an arrow[.] the total amount killed is 15 men and 20 wounded and 150 indians killed and about 100 [ponies] killed and 200 captured and 150 prisoners taken[.] This is called the battle of whiteStone hill.
SHSND Mss 21020