This map was drawn around 1814 by an unknown cartographer or mapmaker. It measures 19 7/8 inches by 14 ½ inches. Source: SHSND 978.41 M297 1814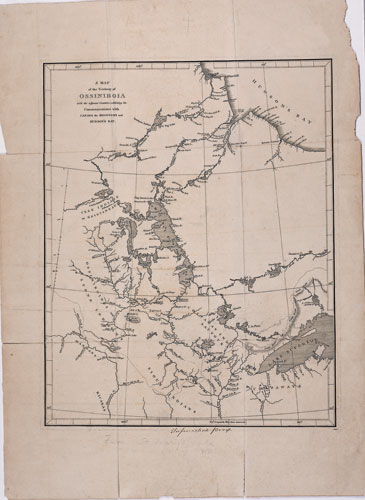 Map of Ossiniboia Territory (1814)
The Map of the Territory of Ossiniboia shows the Canadian perspective on the northern Great Plains. While its central focus is the area which is today known as Manitoba and Saskatchewan, geographic features of modern day North Dakota are clearly visible including the Red River, the Pembina River, and Devils Lake (Gods Lake).
The Louisiana Purchase of 1803 was defined by the Missouri River drainage or watershed which did not include the north flowing Red River and its tributaries. Canada claimed the Red River watershed and all territory not drained by the Missouri River. The two nations agreed on a boundary line at the 49th parallel from the Lake of the Woods to the Rocky Mountains in 1818. The remaining distance was completed by treaty in 1846.
The future state of North Dakota is entirely present in this map, though the course of the Red River is mistakenly drawn as flowing from Ottertail Lake and some other important features are not accurate. Some features, such as Warreconne River (Beaver Creek) indicate that the mapmaker was familiar with the maps of Lewis and Clark. Of great importance are the faint lines that indicate commonly used trails for commerce between the Mandan Villages and the Hudson's Bay Company trading post at Brandon House.
Map Activity: Print a copy of this map and identify the locations of the towns of Grand Forks, Caledonia, Pembina, and Williston. Do the commerce trails follow any present day highways?