This map was drawn cartographers working for the New York map publisher, Asher and Adams, which was very active in publishing maps and atlases in the 1860s and 1870s. This map, published in 1873, measures 17 ½ inches by 23 ¾ inches. Source: SHSND 978.402 A825a 1873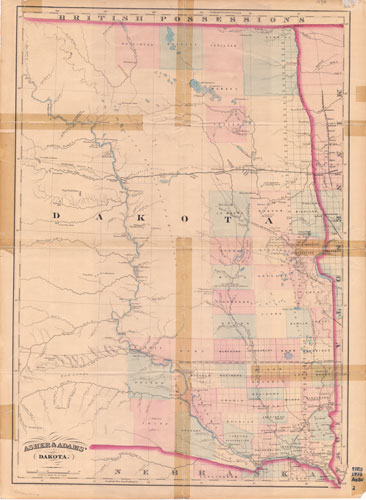 Asher & Adams' Map of Dakota (1873)
Asher and Adams compiled this map twelve years after Dakota Territory was officially established. At that time, settlement still clung to the eastern edge of the territory, with the exception of a small settlement at "the crossing" named Edwinton, soon to be renamed Bismarck.
Asher and Adams made railroad construction the focus of many of their maps. The Northern Pacific Railroad reached the Missouri River in June 1873. This 1873 map shows completed construction to Edwinton. The planned route to continue the Northern Pacific is shown with a plain line. Other railroads are concentrated in the southeastern corner of the territory near the capital city, Yankton. A couple of lines indicate planned routes for railroads that were not built.
The details on this map show the extent of the land survey in northern Dakota Territory in 1873, and a few counties are identified. All of the military posts are situated with the major exception of Fort Buford (along with the badlands and the western boundary of the state) which is located west of the western edge of this map. Topographical features can be seen, but unlike earlier maps were not emphasized by this company.
Map Activity: Compare this map to earlier maps including the Map of Ossiniboia. What features to they have in common. What is new in 1873?
Railroads had been crossing the continent for less than five years when this map was printed. Does this map indicate the significance of the railroad to settlement on the Great Plains?