FOR IMMEDIATE RELEASE
Contact: August 29, 2012
Erik Holland
701.328.2792
Sensational Sunday Presentation to Feature Historic Trail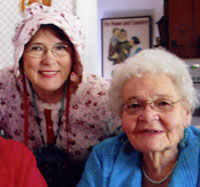 BISMARCK - Fort Seward to Fort Totten Trail: An Historical Perspective will be the subject of the Sensational Sunday program, September 23, 2012, at 2 p.m. at the North Dakota Heritage Center in Bismarck, ND. Rebecca Young-Sletten and her mother Mary Faith Young will present an overview of the history of the trail including stories of Native Americans who inhabited the area, settlers who lived along the trail, and some antics of folks who operated the stage stops along this short-lived trail.
Also included will be experiences of those who reopened the trail on the 1969 wagon train. Research for this reenactment included use of military maps, reminiscences and historic documentation. Both presenters were participants on that trail ride. Recently they received a grant from the North Dakota Humanities Council to document their unique historical perspective of the Fort Seward to Fort Totten Trail. There will be time for questions following the presentation.
This presentation is part of the Sensational Sundays series sponsored by the State Historical Society of North Dakota. All Sensational Sunday programs are free and open to the public. For more information, call the State Historical Society of North Dakota at 701.328.2792 or go to history.nd.gov.