ARCHIVES HOLDINGS:
10691 Roy Johnson and Louis Pfaller
Folder 15 Box 51 of the Roy Johnson and Louis Pfaller Collection contains letters written by Louis Riel to his mother from jail.
10011 George B. Winship
In this box, there is reminiscence of George B. Winship. Winship recalls the Sibley Expedition, the Riel Rebellion, and the early growth of the cities of Grand Forks and Pembina. Winship started the Grand Forks Herald.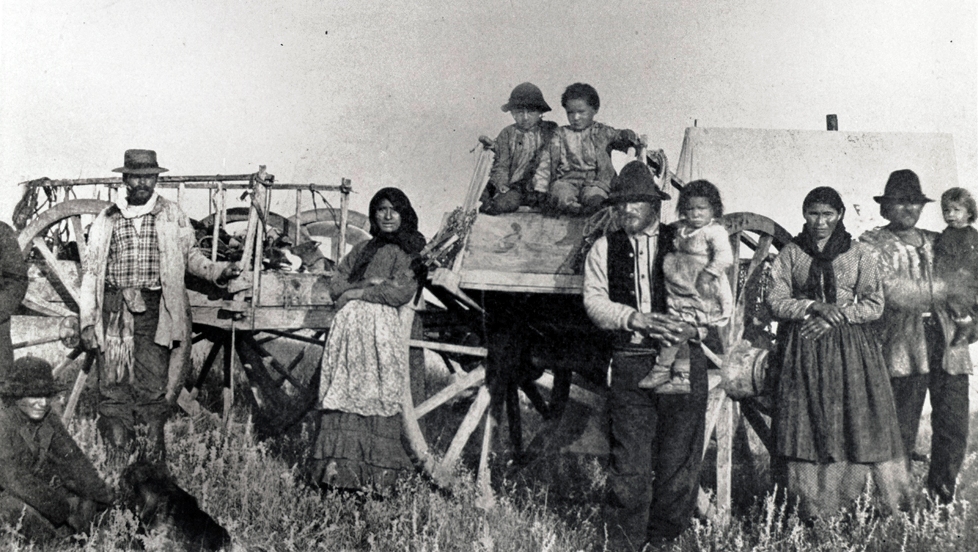 SHSND A4365
SUGGESTED READINGS:

Gilman, Rhonda, Carolyn Gilman, and Deborah Stultz. The Red River Trails: Oxcart Routes between St. Paul and the Selkirk Settlement - 1820-1870. St. Paul: Minnesota Historical Society, 1979.
This book provides history of the oxcart trails which were so important to the Métis. The book also mentions Norman Kittson, Joseph Rolette, and Thomas Douglas. It provides maps and history of all oxcart trails in Manitoba, Minnesota, and North Dakota.

Woolworth, Nancy L. "Gingras, St. Joseph and the Metis in Northern Red River Valley: 1843-1873." North Dakota History, Fall 1975: 16-27.
Walhalla, North Dakota and Pembina were centers of fur trade for the Metis. This article describes the roll the Metis had in the fur trade around the two towns.

Camp, Gregory S. "Commerce and Conflict: A History of Pembina 1797-1895." North Dakota History, Fall 1993: 22-33.
Pembina was one of the first fur trade posts in North Dakota. Camp provides information about the people and trade around Pembina.
Belcourt, George Antoine. "Hunting Buffalo on the Northern Plains: A Letter from Father Belcourt." North Dakota History, Summer 1971: 332-348.
In this letter, Father Belcourt tells of the time he went on a buffalo hunt.
Finding Aids on Intercultural Interaction in North Dakota: