ARCHIVE HOLDINGS:
20025 Gilbert Nordhagen
Gilbert Nordhagen writes about his life growing up in Ransom County in North Dakota during the late 1800s. The main topics are family, farming, and settlement.
20106 Christen Christensen
Christen Christensen came to America with his family from Denmark when he was a child. In his memoir, Christensen recalls moving from Denmark to Minnesota and finally settling in northwest North Dakota. The memoir provides examples of how hard it was to come to a homestead with nothing and start a new life.
20404 Jon Jonsson
Jon Jonsson was an immigrant from Iceland. His diary begins in Iceland before he journeys to America. He finally reaches the Grafton, North Dakota area after a few years around Michigan. In his diary, he keeps track of farming activities, weather, and the price of certain items throughout the year.
20459 Lester G. Budlong
This paper studies the relationship between the railroad and immigration to North Dakota.
20937 John and Marie Opsal
In 1903, John Opsal arrived from Norway. This folder contains information about his relatives settling in the Red River Valley and other places around the United States. Some letters are in Norwegian. There are also naturalization certificates of the family.

30559 WPA
North Dakota became home to many different ethnic groups around the turn of the Twentieth Century. The WPA researched the various ethnic groups to call North Dakota home. Some of the ethinic groups include Austrian, English, German Russians, Irish, French, Jewish, Norwegian, and Swedish. The research includes biographies and memories of immigrants to North Dakota.

30562 WPA
The WPA recorded folklores of different ethnic groups who call North Dakota home. These ethnic groups contain Germans, Germans from Russia, Norwegians, and other ethnic groups.

80166 Jans Peter Peterson
During the late 1800s and early 1900s, many immigrants flooded to North Dakota. Many became United States citizens. In this collection, there is a citizenship certificate for Jans Peter Peterson.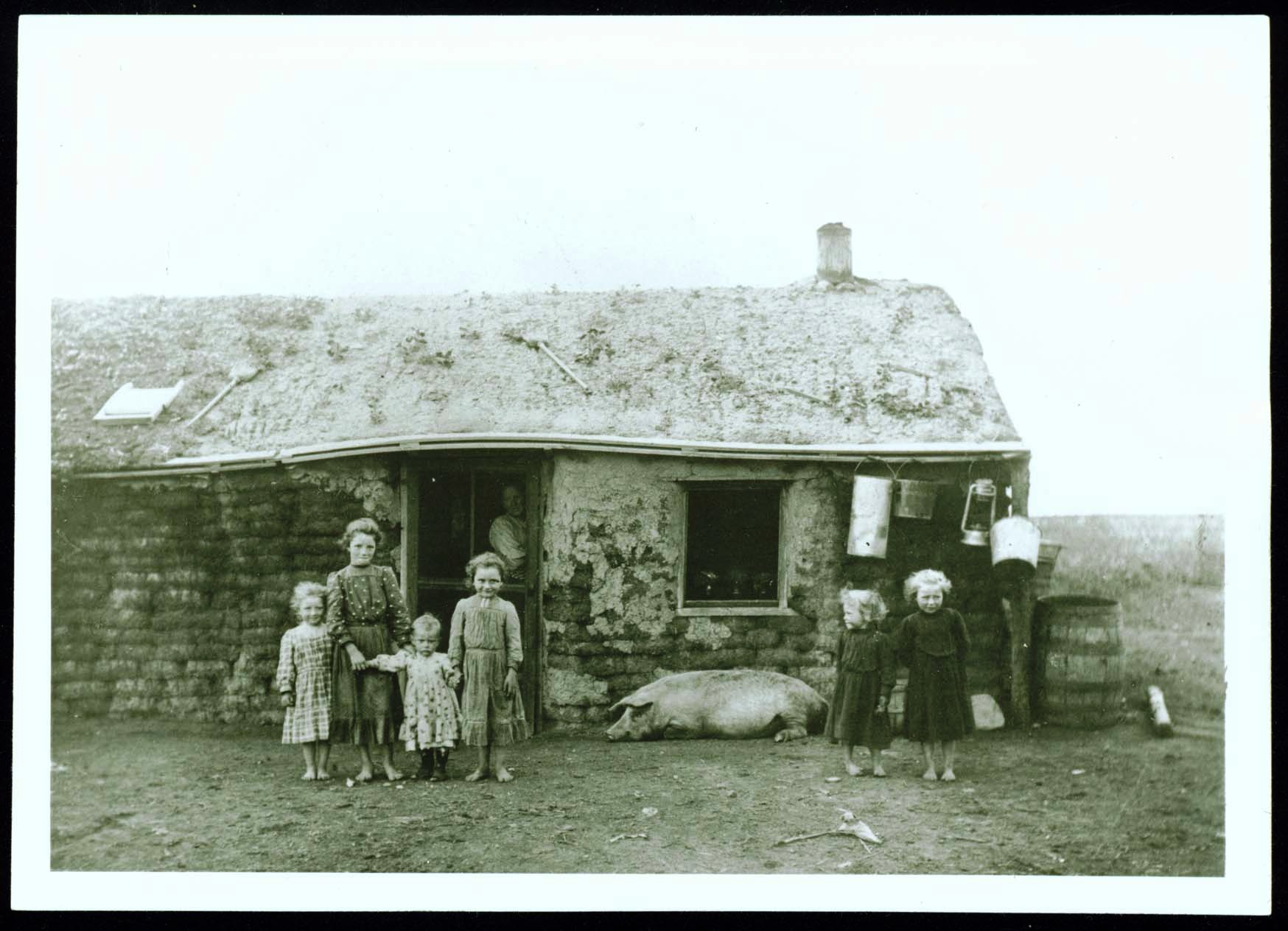 SHSND A4378
SUGGESTED READINGS:
Zeidel, Robert F. "People of the Empire: The Great Northern Railroad and the Recruitment of Immigrant Settlers to North Dakota." North Dakota History, Spring 1993: 14-23.
The article lays out the connection between the railroad and immigration into North Dakota Zeidel writes about James J. Hill and his use of advertising to pull people to Dakota Territory by his trains. He targeted people with similar cultures or religions to come to Dakota Territory.

Iseminger, Gordon L. "The McIntosh County German Russians: The First Fifty Years." North Dakota History, Summer 1984: 2-23.
This article provides an overview the Germans from Russia who lived in the McIntosh County. They lived in towns like Wishek, Ashley and Zeeland. This article covers what they did for a living, the education the immigrants children received, and the changes they experienced from the immigration.

Iseminger, Gordon L. "Are we Germans, or Russians, or Americans? The McIntosh County German-Russians During World War I." North Dakota History, Spring 1992: 2-16.
This article describes the hardships of the Germans from Russia had with figuring out their identity. It also covers the immigration and settlement trends of the Germans from Russia. Iseminger writes about the World War I era and the effect on those identified as both Germans and Russians.

Kildahl, Harold B. ""Westward We Came" - A Family Homesteads in Dakota Territory, 1883." North Dakota History, Fall 1993: 2-12.
This entry in North Dakota History contains memoirs of Harold B. Kildahl. He recalls growing up on the open prairies near Devil's Lake and Church's Ferry. He and his family were from Norway.

Herigstad, Omon B. "Norwegian Immigrants." Collections of the State Historical Society of North Dakota, 1908: 186-201.
Herigstad lays out the information he gathered in a survey of various Norwegian immigrants throughout Griggs County in North Dakota. Questions deal with whether the immigrants planned to return to their homeland and what they have done upon arriving in North Dakota.
Finding aids on other topics on settlement in North Dakota: