ARCHIVES HOLDINGS:

10031 Sarah Boley
Boley homesteaded in Morton County, Dakota Territory. In her diaries, she documents the daily weather, life, and farming activities on the homestead.

10058 Lewis Ferandus Crawford
This collection contains research, newspaper clippings, and interviews with early settlers of North Dakota. Other topics also researched by Crawford were ranching, Indians, and settlement.

10143 Gladys B. Webster
This collection contains research on the early settlers and history of Dunn County, North Dakota.

10211 Ted and Louise Kopseng
Louise Kopseng grew up in western North Dakota. One of the manuscripts recalls the day her parents' ranch finally had electricity. Another manuscript recalls Louise's time as a teacher in rural North Dakota. The last manuscript discusses how her family managed to live in a remote place right after their father homesteaded.

10418 Mary Pethic Gimblett Glaspell
Glaspell was an English immigrant who settled in Griggs County, North Dakota. She documented the weather and daily activities. She also wrote about the church service and farming duties.

10542 Edward E. Heerman
Heerman's collection contains letters, newspaper articles, and reminiscences of settlement near Devils Lake, North Dakota. He captained the steamboat Minnie H in Devils Lake from 1883-1908 bringing settlers and goods into the area.

10743 Lars Soiseth
This collection contains letters, diaries, family histories, and other materials dealing with settlement in North Dakota.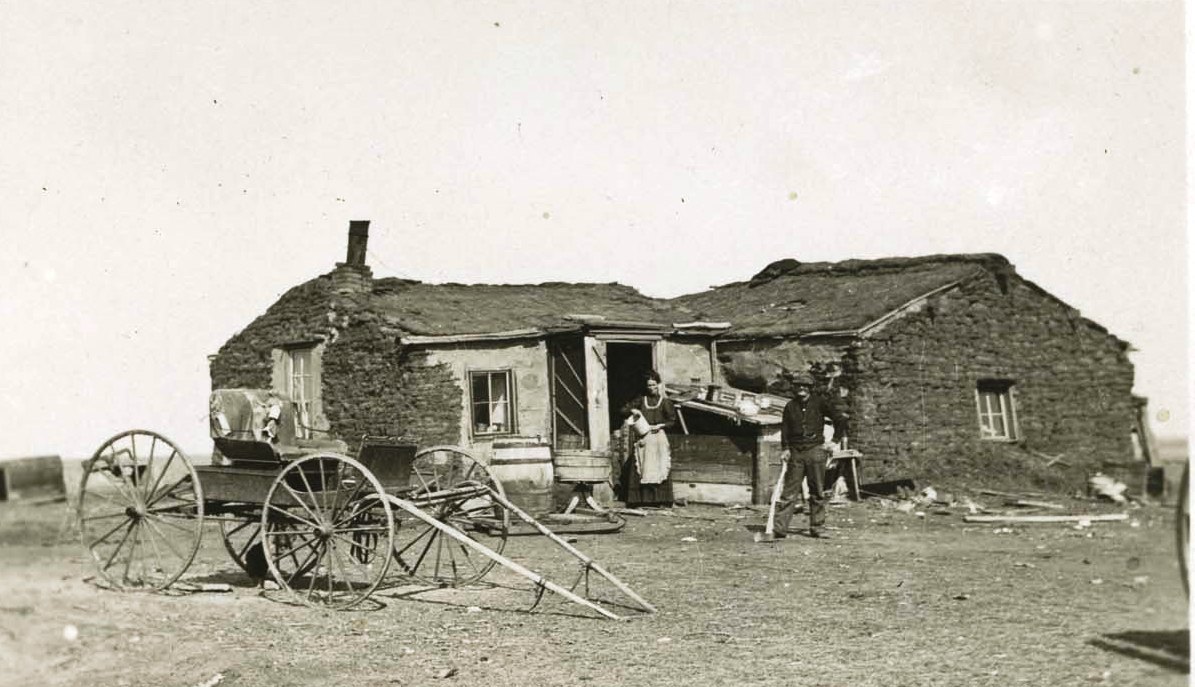 SHSND A3855
10797 Katherine Roberts Pelissier
Pelissier combined her memories of growing up around Medora in the 1880s into a scrapbook. The scrapbook contains photos, letters, and newspaper clippings.

10959 Sarah Lyness
This collection contains three diaries of Sarah Lyness, who homesteaded in North Dakota.

20020 Mrs. W.M. Lindsay
Mrs. W.M. Lindsay and her family settled near Minto, North Dakota. Her memoir contains information about life on the farm and having to adjust to life in Dakota Territory. They arrived near Minto in 1878.

20022 Thomas H. McKee
Thomas H. Mckee wrote his memoir of growing up in Bismarck. Instead of rural homesteaders, this memoir reveals what life was like after settling in an urban area.

20025 Gilbert Nordhagen
Gilbert Nordhagen writes about his life growing up in Ransom County in North Dakota during the late 1800s. The main topics are family, farming, and settlement.
20032 Florence Folsom
This collection contains letters on the history and settlement of Dickey County. There are also histories on various towns in Dickey County.

20053 H.J. Marshall
In 1878, H.J. Marshall's parents decided to come to Dakota Territory. This folder contains his memoir of growing up on a homestead near Valley City.

20091 George Sanger
George Sanger's diary contains details about settling in Dakota Territory. He also documents the weather and a Missouri River spring flood.

20097 Anton Giles Covell
This folder contains Anton Giles Covell's diary. It begins in January 1883 while Covell still is living in Pennsylvania and continues to cover the year he moved to Carrington, North Dakota.

20106 Christen Christensen
Christen Christensen came to America with his family from Denmark when he was a child. In his memoir, Christensen recalls moving from Denmark to Minnesota and finally settling in northwest North Dakota. The memoir provides examples of how hard it was to come to a homestead with nothing and start a new life.
20211 Stephen J. Dunn
This collection contains histories of Oliver County's settlement.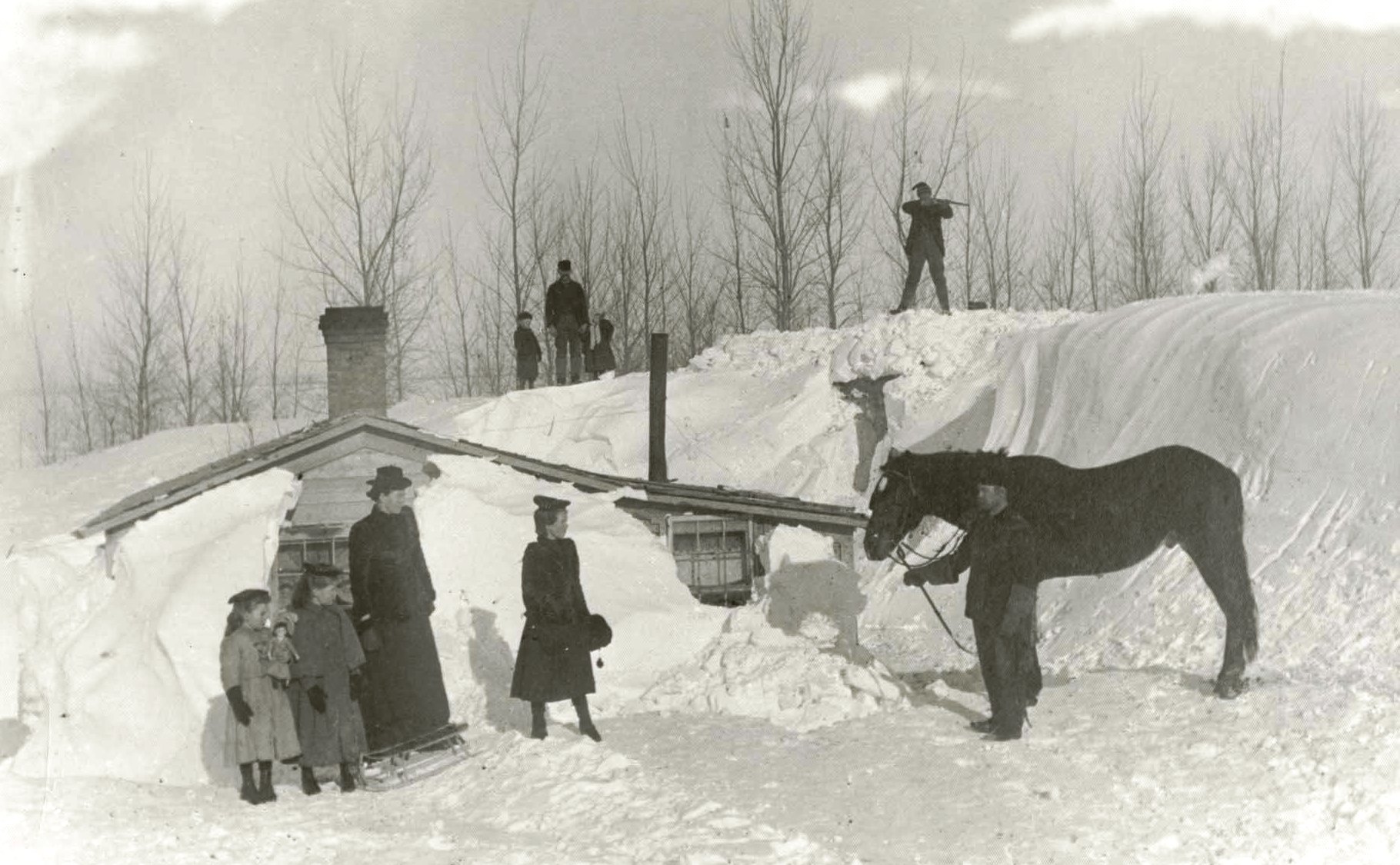 SHSND B0976
20238 Ellen Calder Delong
Ellen Calder Delong arrived in Cavalier County with her family as a child in 1884. She recalls the schoolhouses, churches, and working on the farm growing up on the prairies in her memoir.
20241 James Shoemaker
Shoemaker wrote letters to his family in Pennsylvania while he settled in Dakota. In his letters there is reminiscences of settlement, weather, fires, and the Indian wars.

20261 James H. Wycoff
James H. Wycoff told his story of homesteading in Dakota Territory to his daughter shortly before he died. Wycoff helped his mother and father homestead in Cass County. He told his daughter about the chores, the house, the recreational activities, and the extra jobs his father performed.

20311 George Townsend
Located in the George Townsend Papers is a collection of the letters that he wrote home to his family. The letters document his experiences homesteading in North Dakota during the early 1900s.

20316 Lillian Shumway Brown
This is Lillian Shumway Brown's recollection of settling in Dakota Territory near Grafton from Wisconsin.

20317 Mary Dunlave Tellefson
Mary Dunlave Tellefson retells the stories of homesteading in Cass County that were in Clare's diary. Clare began writing her diary in 1881. In the diary, there are stories of farming, nursing, family, and winter.
20329 Fannie Pendroy
The Fannie Pendroy Collection contains newspaper clippings and reminiscences of the Pendroy Settlement on the Mouse River.
20398 Adeline E. (Herrick) Hicks
Letters and memories from homesteading in Emmons County.
20402 Louis Connolly
Connolly wrote his wife Mary while he was settling in Dakota Territory. He also describes ranching in North Dakota.

20404 Jon Jonsson
Jon Jonsson was an immigrant from Iceland. His diary begins in Iceland before he journeys to America. He finally reaches the Grafton, North Dakota area after a few years around Michigan. In his diary, he keeps track of farming activities, weather, and the price of certain items throughout the year.
20415 Caroline Larrabee
Larrabee wrote letters to her husband about homesteading near Fort Totten and Carrington, North Dakota.
20454 Adeline Potter
This collection contains a manuscript about the settlement of Foster County in North Dakota.

SHSND 0009-16
20594 George W. Lilly
In this collection there are photographs and reminiscences of McIntosh County around 1880.
20624 Mrs. H. C. Croffurd
This collection contains two typescripts of memoirs of settlement near Fargo.
20655 Damia Peck Berry
Damia Peck Berry recalls moving from New York to Yorktown, Dakota Territory in 1883. She remembers what her house was like with dirt floors and what daily chores were like on a new homestead.

20676 Willard E. Arnold
In 1868, Willard E. Arnold and his family began their move to Dakota Territory. He recalls traveling to Dakota Territory and settling near Mayville, North Dakota. His memories provide information about the hardships of settlement like prairie fires and working the land. However, he also recalls the good times like dances.

20854 Elizabeth Seymour Harris
Elizabeth Seymour Harris wrote to her family in Wisconsin from Dakota Territory. Her letters provide information about traveling out to Dakota Territory, selecting a spot to homestead, and then through the ups and downs of homesteading. Elizabeth Seymour Harris homesteaded in Dickey County near Keystone.

21008 Edith Ovidia Satrom
Edith Satrom was a teacher in the Portland, North Dakota area in the 1930s. For an assignment, she had her students write to early pioneers of the town and ask about the old times. In return, the pioneers responded with their memories of settlment near Portland.

21046 Emma H. Klomstad
Klomstad's memories of growing up on a homestead near Crosby, North Dakota.
21055 Carl Aasen
Carl Aasen and his family homesteaded in Dakota Territory. He recalls the struggles and good times of homesteading in new land. He begins with the journey to North Dakota by train.
21063 Theodore Hagberg
This collection contains Della Brallier Hagberg's recollection of pioneering in western North Dakota. It also contains a wedding certificate, land title and other important documents.

30529 WPA
One of the projects the WPA recorded was the Pioneer Biography Files. These files give a short biography on many early North Dakotans.

30548 WPA
The WPA researched North Dakota's cities' and towns' histories. These histories provide information on county schools, churches, towns, and important people to live in the county.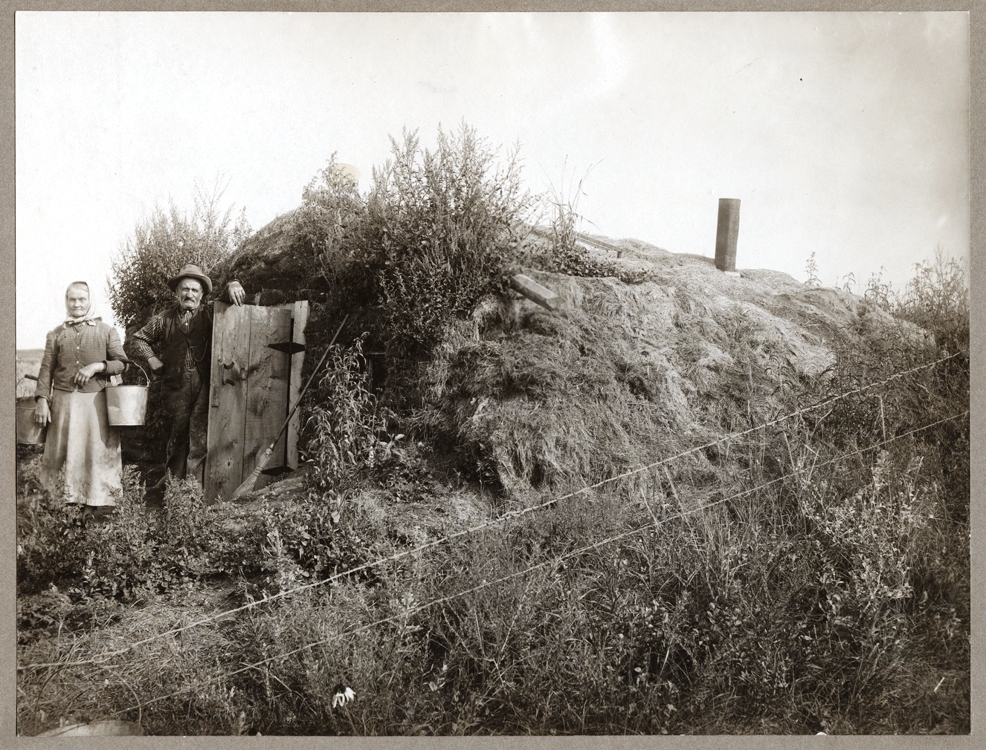 SHSND D0635
30550 WPA
The WPA researched and created North Dakota county history files. These files focus on the county's farming and resources along with the towns, religious groups, and the different ethnic groups within the county.

80026 Byron L. Weiss
This is a land patent, deed, and load application for land in Richland County.
80120 William G. Colton
Each person who homesteaded in North Dakota received a land patent. This folder contains William G. Colton's land patent. The land patent states exactly where Colton's land was and how large the area of land he was going to homestead.
SUGGESTED READINGS:

Briggs, Harold E. "The Settlement and Development of the Territory of Dakota." North Dakota Historical Quarterly, Spring and Summer 1933: 114-149.
This article describes the early Dakota Territory. It describes the early settlement along with the fears the settlers had. This article contains information about all of Dakota Territory including South Dakota and North Dakota.

Kildahl, Harold B. ""Westward We Came" - A Family Homesteads in Dakota Territory, 1883." North Dakota History, Fall 1993: 2-12.
This entry in North Dakota History contains memoirs of Harold B. Kildahl. He recalls growing up on the open prairies near Devil's Lake and Church's Ferry. He and his family were from Norway.

Finding Aids on Settlement of North Dakota: