ARCHIVES HOLDINGS:
10148 Paul Ewald
Box 2 Folder 36 in the Paul Ewald Papers supplies information about Bodmer's art. Pamphlets in the folder provide information about both Maximilian and Bodmer's time in North Dakota.
10422 Francis A. Chardon
In his journal, Francis Chardon writes about his time at Fort Clark. He describes his releations with the Native Americans, the trading system, and the smallpox epidemic that nearly wiped out the entire Mandan. He kept track of the number of deaths from smallpox until it was too many to count. His journal shows how the relationship with the Native Americans changed after smallpox hit the village.

20333 Jerome Ketterling
This folder contains a brief history of Fort Clark. Along with the history, there are maps and photos of the remaining structures at Fort Clark.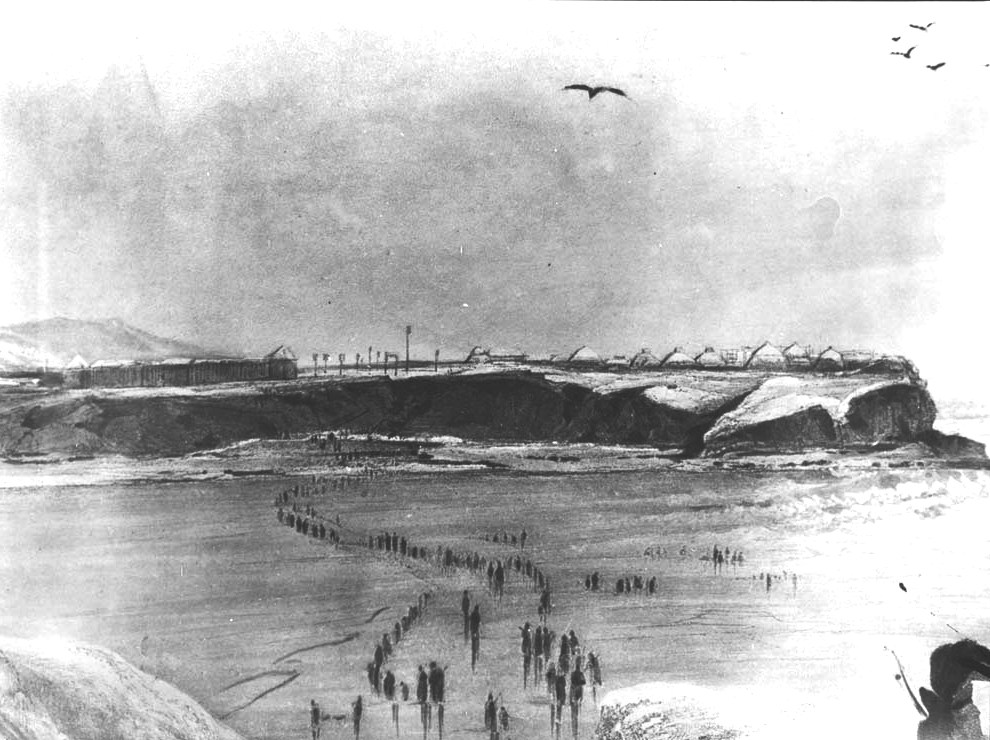 Fort Clark. SHSND A5666
SUGGESTED READINGS:

Wood, W. Raymond, William J. Hunt, and Randy H. Williams. Fort Clark and Its Indian Neighbors: A Trading Post on the Upper Missouri. Norman: University of Oklahoma Press, 2011.
This book provides a history of Fort Clark. Along with the history, the book explains why Fort Clark had so many different visitors like Francis Chardon, George Catlin, Maximilian, Friederich Kurz and others. The book illustrates the relationships between the fur traders and the surrounding Native American tribes.
Wood, W. Raymond. "James Kipp: Upper Missouri River Fur Trader and Missouri Farmer." North Dakota History, Winter and Spring 2011: 2-35.
James Kipp was one of the first fur traders to trade at Fort Clark. W. Raymond Wood gives a biography of James Kipp. The article describes Kipp's importance to all fur trading posts on the Missouri River in North Dakota.
Finding aids on other fur trade posts in North Dakota: