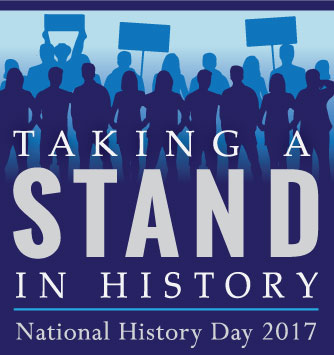 State Competition
April 7, 2017
Student Registration Form
Teacher Registration Form
Contact:
Erik Holland
NHDinND Affiliate Coordinator
701.328.2792
eholland@nd.gov
The National History Day theme for 2017 is Taking a Stand in History. This broad theme allows you to examine times in history when a person or group of people have taken a firm position on any issue. Your topic could focus on North Dakota or on a historical movement from around the world. Researching political movements, military stances, or emergence of leadership roles may all lead to great topics! Another way to look at this theme would be to examine failures at taking a stance. What happened when people waited too long or did not take a stance at all? There are plenty of recent and historical events that occurred in North Dakota where people succeeded or failed at taking a stance.
Remember when developing your National History Day theme and project to consider all of the important questions. Who was involved? What happened? Where and when did it occur? Why did it happen? Most importantly, ask yourself, "So what?" What was the impact from taking a stance, or failing at taking a stance? How did it affect the culture, lives, or environment of the world? Why is this topic important, and why must we understand the effects of it today? These questions should help you as you begin to research primary sources about Taking a Stand in History.
Use of primary source material from the North Dakota State Archives in your project will not only improve the overall quality of the project, but will provide you with a deeper understanding of North Dakota history and how to use an archives. With the help of the primary sources available at the State Historical Society of North Dakota, you are sure to find an interesting topic featuring North Dakota!
These finding aids contain the collection number and a brief description for some archival collections that will provide primary and secondary sources supporting the2017 National History Day theme, Taking a Stand in History.
Finding Aids on Taking a Stand in History in North Dakota History:
North Dakota Resources:
Teacher Resources:
National History Day Resources