Join us for a powerful half-hour film by Video Art Studios of Fargo and a presentation by Dr. Terrence Roberts,
one of the Little Rock Nine students.
Friday, September 20, 2013
BSC Sidney J. Lee Auditorium
7-8:30 p.m.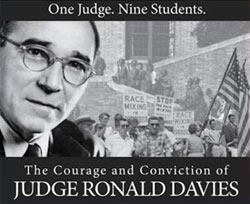 "The Road to Little Rock" tells the courageous story of one diminutive judge and nine determined teenagers who demonstrated enduring positive human qualities of courage, honor, determination, and responsibility. This story begins in 1957 as nine African-American teenagers sought enrollment at an all-white high school in Little Rock, Arkansas. In 1957 many school districts continued to ignore the 1954 Supreme Court ruling of Brown v Board of Education which declared that segregation in public schools was unconstitutional.
The story features a number of never seen before interviews with three members of the Little Rock Nine and Supreme Court Justice Stephen Breyer. It blends interviews with archival footage and primary source documentation to tell the story of the events which led to the integration of Central High School.
You will witness the courage and determination demonstrated by the "Little Rock Nine" who sought to attend the high school of their choice. You will be introduced to Federal Judge Ronald Davies, from Fargo, North Dakota, who followed the law, ignored political pressure and required the school district in Little Rock to integrate "forthwith". The ruling by Judge Davies provided great urgency for the desegregation of public schools. The actions of these individuals would change the course of public school education in the United States.
KXMB interview with Erik Holland, curator of Education
FEATURING NATIONAL KEYNOTE SPEAKER
Dr. Terrence Roberts
A civil rights pioneer and holder of the Congressional Gold Medal, Dr. Roberts was a Little Rock Nine student who stood up for equal access to education during a pivotal moment of the Civil Rights Movement.
Dr. Roberts will also be the keynote at the ND Governor's History Conference on Saturday, September 21 beginning at 8 a.m. For more information and registration, go to history.nd.gov/conference.

For more information and sponsors visit TheRoadToLittleRock.com
Address:
612 East Boulevard Ave.
Bismarck, North Dakota 58505
Get Directions
Hours:
State Museum and Store: 8 a.m. - 5 p.m. M-F; Sat. & Sun. 10 a.m. - 5 p.m.
We are closed New Year's Day, Easter, Thanksgiving Day, and Christmas Day.
We will also be closed on Christmas Eve this year.
State Archives: 8 a.m. - 4:30 p.m. M-F, except state holidays; 2nd Sat. of each month, 10 a.m. - 4:30 p.m.
State Historical Society offices: 8 a.m. - 5 p.m. M-F, except state holidays.
Contact Us:
phone: 701.328.2666
email: histsoc@nd.gov