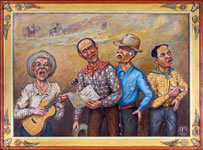 Last Roundup - Olstad Painting
The Art of Einar Olstad
February 15, 2012 – April 2014
Inspired by the people, scenery, and ranch life of the Dakota badlands, rancher artist Einar Olstad (1878-1955) captured the essence of the American West in his whimsical and often humorous portrayals of the Dakota cowboy. In addition to a wide selection of his evocative paintings, objects relating to ranching life in the 1930 will be on display.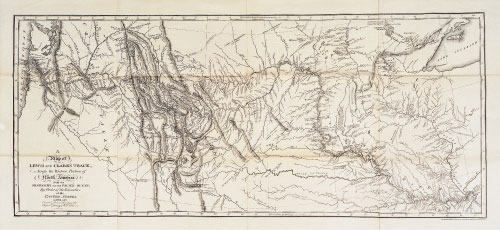 Map of Lewis and Clark Expedition | find more information on
Digital Horizons
Permanent exhibits at the Missouri-Yellowstone Confluence Interpretive Center explore the geography and geology of the area, its prehistoric life, and the impact of people arriving by Trails, Tracks, Rivers and Roads, which is also the name of the exhibits area. Featured in the 2,000-square-foot permanent gallery will be the Lewis and Clark journey, the fur trade era, Fort Buford, and the development of the modern-day irrigation and energy industries. There are more than 200 artifacts in the permanent gallery, including a frontier army transport wagon, a steamboat pilot's navigating wheel, and a 1904 Model A Cadillac.
See also Fort Buford State Historic Site - Exhibits.

Follow Fort Buford State Historic Site/Missouri-Yellowstone Confluence Interpretive Center on Facebook!