How Does Your Garden Grow? Gardening in North Dakota
Short growing seasons and cold winters have always challenged North Dakota gardeners. From native Mandan and Hidatsa gardeners to the modern NDSU extension offices, people have worked to produce fruit and vegetable varieties that are cold-hardy, fast-growing, and drought resistant. This exhibit follows a gardenís progress from planting, to harvest, and finally preservation. Historic garden implements and original seed catalogs are featured. This exhibit won an Award of Merit from the American Association of State and Local History.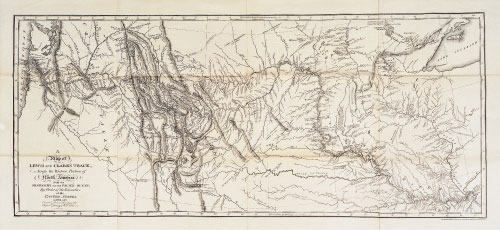 Map of Lewis and Clark Expedition | find more information on
Digital Horizons
Permanent exhibits at the Missouri-Yellowstone Confluence Interpretive Center explore the geography and geology of the area, its prehistoric life, and the impact of people arriving by Trails, Tracks, Rivers and Roads, which is also the name of the exhibits area. Featured in the 2,000-square-foot permanent gallery will be the Lewis and Clark journey, the fur trade era, Fort Buford, and the development of the modern-day irrigation and energy industries. There are more than 200 artifacts in the permanent gallery, including a frontier army transport wagon, a steamboat pilot's navigating wheel, and a 1904 Model A Cadillac.
See also Fort Buford State Historic Site - Exhibits.

Follow Fort Buford State Historic Site/Missouri-Yellowstone Confluence Interpretive Center on Facebook!