Bridges of North Dakota
The suspension footbridge in Valley City - the rainbow arch bridge at Mott - the Burlington Northern Santa Fe trestle over the Gassman Coulee outside of Minot: these iconic bridges from across the state are featured in the newest exhibit produced by the State Historical Society of North Dakota.

Bridges over Missouri River, Bismarck ND. SHSND# 0790-08
Crossing valleys, rivers, and other obstacles, bridges knit the people and places of North Dakota together. A new traveling exhibit, Bridges of North Dakota, features bridges from across the state, spanning the time period from 1872 to the present. The exhibit has a video component that integrates historical photographs with 1920s and contemporary film footage.
Bridges of North Dakota is the latest addition to the TIES (Traveling Interpretative Exhibit Service) program of the State Historical Society of North Dakota. The exhibit was produced in cooperation with the North Dakota Department of Transportation, with federal funding provided by the Federal Highway Administration, North Dakota Division, Bismarck.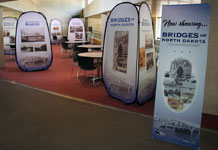 The exhibit consists of five, three-sided fabric kiosks that collapse to the size of a large pizza. The lightweight and durable components will greatly reduce shipping costs for county, local, and tribal museums, libraries, schools, and other venues. The exhibit is accompanied by a DVD, promotional banner, and book. To reserve Bridges of North Dakota for your local venue, please contact Outreach Coordinator at 701-328-2666 or email at dlstuckle@nd.gov.
Click here to view a PDF of the Bridges Setup Instructions.
You may also be interested in the book Bridges Across North Dakota.
Produced in conjunction with the T.I.E.S project, this stunning coffee table book is the first of its kind featuring beautiful photographs of many of our state's bridges. Created by the ND Department of Transportation, it celebrates the historic and modern bridges in our state.
There is also a Suitcase Exhibit for North Dakota (S°E°N°D) Trunk that focuses on Truss Bridges in North Dakota. Use math, science, language arts and history lessons to relay the impact of truss bridges on the state.