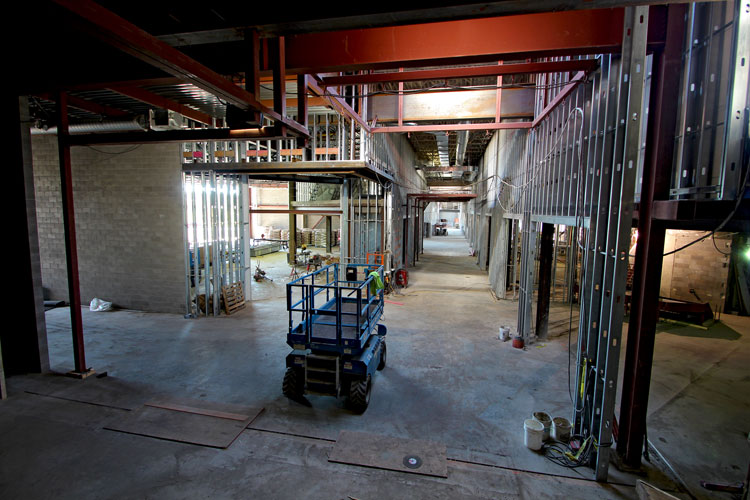 When the Heritage Center Expansion project is complete there will be 39,000 square feet of exhibit space at the Heritage Center – that's almost double the current gallery size! This means we will be able to display more objects, tell the history of North Dakota in greater depth, and incorporate up-to-date techniques.
Exhibits in the current (2010) gallery tell the story of North Dakota up to the late 1930's and the Great Depression. We have a great deal of additional history yet to share with our children, citizens, and visitors. New exhibit spaces will tell the story of the last 70 years including World War II and our emerging industries—coal, gas, wind power, agriculture processing, manufacturing, and technology. Exhibits will also expand upon the story of North Dakota's First People and explore farther back into Geological Time when dinosaurs roamed the plains. In addition, a large temporary gallery will allow us to host impressive traveling exhibits from the nation's premier museums.
A project this big takes time. Beginning October 15, 2012 the Main Gallery at the Heritage Center will be closed for renovations. The first exhibits begin to arrive in the newly Expanded Heritage Center in Spring 2013. That 39,000 square feet of exhibits will be finished in phases, with an exciting completion scheduled for Fall 2014.
News:
Concept Designs Unveiled
Conceptual designs of the new permanent exhibits for the Heritage Center Expansion were recently unveiled. Heritage Center staff have been presenting these designs and soliciting comments in a series of community meetings across the state.
The exhibits will trace North Dakota history from the geologic past 500,000 million years ago up through the present day. The story unfolds through three galleries – the Adaptation Gallery: Geologic Time, the Innovation Gallery: Early Peoples, and the Inspiration Gallery: Yesterday and Today. Here is a sneak peek:
Adaptation Gallery: Geologic Time
Visitors start their journey 80 million years ago in an Underwater World, when North Dakota was covered by an inland sea.

Stepping out of the "sea" visitors walk into a central orientation space featuring a large multi-user touch table that acts as a detailed interactive timeline.

Dominating the view will be life-size casts of a Tyrannosaurus rex and Triceratops ready to fight.
Innovation Gallery: Early Peoples
When people first came to what would become North Dakota over 13,000 years ago, they hunted supersize mammals, just like the Bison antiquus skeleton visitors will encounter as they enter the gallery.
Inspiration Gallery: Yesterday and Today
The inspiration gallery will explore the state's recent history through thematic areas. The Agricultural Innovation area, show here, will feature over a century of farm and ranching stories.
We installed the updated Birds of North Dakota exhibit which opened to the public July 1, 2011. This new exhibit about North Dakota's many birds will be one of the first exhibits open in the Expansion. Here is a small preview of the new Birds of North Dakota exhibit:



Dakota Kids closed June 13, 2011 due to continuing Expansion construction. Selected Dakota Kids elements will eventually be brought back into the main gallery in the Settlement Era exhibit. A new Dakota Kids will be introduced after the Expansion opens.
Address:
612 East Boulevard Ave.
Bismarck, North Dakota 58505
Get Directions
Hours:
State Museum and Store: 8 a.m. - 5 p.m. M-F; Sat. & Sun. 10 a.m. - 5 p.m.
We are closed New Year's Day, Easter, Thanksgiving Day, and Christmas Day.
We will also be closed on Christmas Eve this year.
State Archives: 8 a.m. - 4:30 p.m. M-F, except state holidays; 2nd Sat. of each month, 10 a.m. - 4:30 p.m.
State Historical Society offices: 8 a.m. - 5 p.m. M-F, except state holidays.
Contact Us:
phone: 701.328.2666
email: histsoc@nd.gov