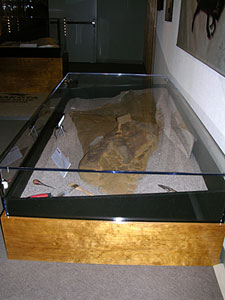 A mummified dinosaur, one of the rarest fossils ever found, will be on public display at the North Dakota Heritage Center in Bismarck beginning Saturday, June 14. This hadrosaur, or duck-billed dinosaur, is nicknamed "Dakota,&rdquo. It was discovered in 1999 by Tyler Lyson, now a doctoral student in paleontology at Yale University, on his uncle's ranch near Marmarth in southwestern North Dakota. When he saw it, Lyson knew he had found something very special. The nearly complete hadrosaur fossil has skin, bones, and tendons preserved in sandstone.
"This duckbill's skin is remarkably preserved, making Dakota one of the most scientifically important dinosaurs ever found," said State Paleontologist Dr. John Hoganson with the North Dakota Geological Survey (NDGS). He estimates the hadrosaur weighed about four tons when living, and was a plant eater. Dakota was buried quickly after death about 67 million years ago, and its skin and other soft tissues were replaced by minerals. The hadrosaur is one of only a few naturally preserved dinosaur mummies discovered. Unlike previous dinosaur mummies, which typically show skin impressions in rock, Dakota's entire skin envelope appears to be mostly intact. Final excavation of the dinosaur took place in 2006.
On exhibit near the museum's main gallery entrance beginning June 14 will be one arm and the tail section. Overviews will explain how the dinosaur was found and the process of getting it out of the Badlands. A digital screen showing progress on uncovering the body block in the NDGS's paleontology lab will be updated regularly.
Since the arrival of the four-ton body block and smaller tail block at the Heritage Center February 5, preparators have been working steadily to uncover the tail for exhibit. "It will take another year or so to free the rest of the hadrosaur from the rock it's entombed in," said Hoganson.
One of the most fascinating aspects about Dakota is the well-preserved scales on its skin, which vary in size. "We can see there are some very small scales, the size of a pinhead, to other scales that are much larger," said Jeff Person, a NDGS paleontologist working on Dakota at the Heritage Center.

Another discovery with Dakota's preserved soft tissue is that the hadrosaur's tail was about 25 percent larger than previously believed. This suggests it could run much faster than scientists thought, perhaps up to 28 miles an hour. "We've also found ossified tendons, which make the tail more rigid," said Person. "These are very common in smaller therapods like Velociraptor and Deinonychus, and helped hadrosaurs evade their major predator, T. rex."
The National Geographic Society, a major contributor to the excavation, preparation and research on Dakota, has published two books and produced a National Geographic Channel television program called "Dino Autopsy" about the rare find. The program is now being shown regularly in the North Dakota Heritage Center's theater near the auditorium.
For more information, visit these websites:
National Geographic "Dino-mummy" story