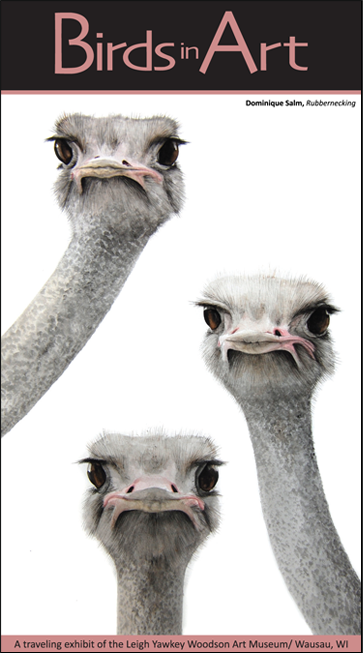 Exhibit of 60 acclaimed
international artists
ND Heritage Center & State Museum
Bismarck, North Dakota

James Morgan, Resting Trumpeters with Exiting Coot
March 10 - June 30, 2014
The range of species would set John James Audubon's heart aflutter. Birds in Art 2013, a touring exhibition of the Leigh Yawkey Woodson Art Museum in Wausau, WI, offers an array of intriguing perspectives—a shadow on a tree trunk, tell-tale trace on a windowsill, a swallow in full burn around a massive oak. This stunning exhibit includes 50 original paintings and 10 sculptures.
Enjoy some of the best contemporary artistic interpretations of birds and related subject matter. From the Roseate Spoonbill to the resting Trumpeter Swan, these works represent numerous species and explore environmental issues affecting birds. Artists chosen for this internationally renowned exhibit continually raise the bar of artistic achievement.
Explore fresh artistic takes on avian marvels by some of the world's most talented artists. Open Monday through Friday from 8 a.m.—5 p.m. and Saturday and Sunday from 10 a.m.—5 p.m.
LOCATION
ND Heritage Center and State Museum / Sperry Gallery
612 East Boulevard Ave. / Bismarck, ND
701.328.2666 • history.nd.gov
FREE ADMISSION!
Tim Cherry, House Sitter
Chris Bacon, Ascension
BIRDS AT THE ND HERITAGE CENTER AND STATE MUSEUM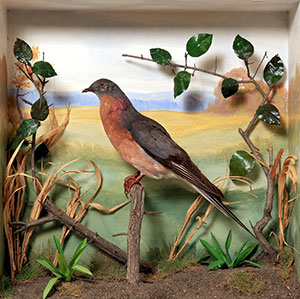 Our passenger pigeon to be on limited display
About 1,500 passenger pigeons inhabit museum collections. They are all that remain of a species that once filled the skies as a seemingly limitless resource. Individually unremarkable, a flock of passenger pigeons was once awesome to behold. A single colony in flight could cover 180 square miles and take days to pass. A roosting flock could break limbs and topple trees, leaving inches or even feet of droppings on the ground. Habitat destruction and unregulated hunting decimated the population in the 19th century. Martha, the last living passenger pigeon, died in the Cincinnati Zoo in Ohio in 1914.
The passenger pigeon in the collections of the State Historical Society of North Dakota was collected in Canada in the early 1870s. This specimen was remounted in 1927.
This specimen is rarely on public display. Watch during the Birds in Art exhibit for a special limited showing of this mounted passenger pigeon!
Birds of North Dakota exhibit returning
The popular Birds of North Dakota exhibit from the former State Museum was recently installed by our Museums Division staff as a hallway exhibit in the newly expanded ND Heritage Center & State Museum. This permanent exhibit will be on public display when the new facility opens in 2014.
Address:
612 East Boulevard Ave.
Bismarck, North Dakota 58505
Get Directions
Hours:
State Museum and Store: 8 a.m. - 5 p.m. M-F; Sat. & Sun. 10 a.m. - 5 p.m.
We are closed New Year's Day, Easter, Thanksgiving Day, and Christmas Day.
We will also be closed on Christmas Eve this year.
State Archives: 8 a.m. - 4:30 p.m. M-F, except state holidays; 2nd Sat. of each month, 10 a.m. - 4:30 p.m.
State Historical Society offices: 8 a.m. - 5 p.m. M-F, except state holidays.
Contact Us:
phone: 701.328.2666
email: histsoc@nd.gov