Heritage Outbound Winter Adventure Feb. 11, 2017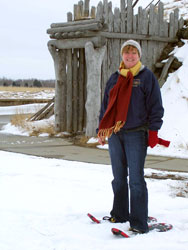 Snowshoeing
Register online!
Cost: $65 and includes two meals, snacks, and snowshoe use
Contact Erik Holland at (701) 328-2792 or eholland@nd.gov with any questions.
Experience and explore winter life at Fort Clark State Historic Site and Knife River Indian Villages National Historic Site. Join others for a day of activities and learning on Saturday, February 11, 2017. The Winter Adventure Heritage Outbound program is sponsored by the State Historical Society of North Dakota.
The day begins with snowshoeing (weather permitting) at Fort Clark State Historic Site and a discussion of events recorded in the historic record of the area, including how the Missouri River has changed its course, who lived and worked both in the village and the Fort. Participants will travel to Knife River Indian Villages, just north of Stanton, ND, for lunch at the Visitor Center and an afternoon of snowshoeing the trails through Hidatsa villages.
State Historical Society of North Dakota staff Erik Holland and Timothy Reed and North Dakota Arachaeological Association president Doug Wurtz join with Knife River Indian Villages National Historic Site staff will lead activities.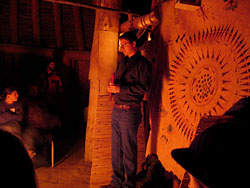 Earthlodge program
Participants will visit the Big Hidatsa village, and learn about village life and the Knife and Missouri rivers through the lenses of archaeology, history and oral tradition. Participants will warm up with hot chocolate while learning about earthlodge life and learning skills such as striking flint to steel to create sparks for kindling fires. Amy Mossett, cultural consultant from the Mandan, Hidatsa, and Arikara (MHA) Nation will join us in the afternoon to discuss some of her experiences as a contemporary women in Indian Country.
Outside, you can learn how to use an atlatl to throw spears at buffalo targets. In past years competition between participants has proven that the group may "go hungry or feast," said Holland, "depending their newly acquired skills." Staff plan to install an ice-coated track near the Visitor Center for sliding ice gliders (feathered rib bone darts) in a traditional winter game.
"Participants will experience an evening in the earthlodge around a crackling fire," said Erik Holland, curator of education. "This will be an unforgettable evening." Participants will enjoy a traditional feast while hearing from Amy Mossett as she relates traditional roles of women in Mandan and Hidatsa culture.
This outdoor program requires moderate physical activity and is recommended for ages 12 and older. Participants are responsible for their own warm clothing.
Address:
612 East Boulevard Ave.
Bismarck, North Dakota 58505
Get Directions
Hours:
State Museum and Store: 8 a.m. - 5 p.m. M-F; Sat. & Sun. 10 a.m. - 5 p.m.
We are closed New Year's Day, Easter, Thanksgiving Day, and Christmas Day.
We will also be closed on Christmas Eve this year.
State Archives: 8 a.m. - 4:30 p.m. M-F, except state holidays; 2nd Sat. of each month, 10 a.m. - 4:30 p.m.
State Historical Society offices: 8 a.m. - 5 p.m. M-F, except state holidays.
Contact Us:
phone: 701.328.2666
email: histsoc@nd.gov