September 21, 2013 • 8 a.m.-4:30 p.m.
CIVIL RIGHTS & SOCIAL JUSTICE
A thoughtful discussion of today's challenges & opportunities
A dynamic Governor's History Conference inviting participants to think in new ways about human rights and justice.
Open to the public. Come and be part of the conversation.
Saturday, September 21, 2013
BSC Energy Center
AGENDA: history.nd.gov/conference/fullconference.html
REGISTRATION: Free of charge, but pre-registration required
Register online through Eventbrite
or print and mail the registration form.
Hosted by the State Historical Society of North Dakota
KXMB interview with Erik Holland, curator of Education
FEATURING NATIONAL KEYNOTE SPEAKER
Dr. Terrence Roberts
A civil rights pioneer and holder of the Congressional Gold Medal, Dr. Roberts was a Little Rock Nine student who stood up for equal access to education during a pivotal moment of the Civil Rights Movement.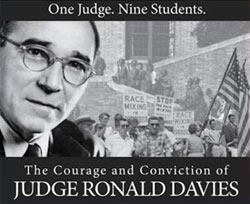 FREE Bismarck Film Premiere of The Road to Little Rock
Join us for a powerful half-hour film by Video Art Studios of Fargo and a presentation by Dr. Terrence Roberts.
September 20, 2013
BSC Sidney J. Lee Auditorium
7-8:30 p.m.
For more information visit history.nd.gov/little_rock.html