2010-P-001 State Historical Society of North Dakota
2010
Images taken during year documenting State Historical Society of North Dakota events and people.
2010-P-002 Deb Hunt
1966-2016
Consists of six Ektachrome color slides taken after the March 1966 Blizzard in Bismarck at 1809 North Bell Street. Slides show Frederick G. Spitzer, Mary (Boehm) Spitzer, and daughter Sheila in the snow outside their home. The collection also includes nine digital photographs of Dakota Access Pipeline protest activity on the North Dakota capitol grounds, Bismarck (N.D.), taken by Hunt on the afternoon of September 9, 2016 (72 dpi JPEGs) (15 items).
2010-P-003 Clara Dyste
ca. 1914
Real photo postcard of Clara Dyste and campfire girls in costume in Forman ND. (1 item)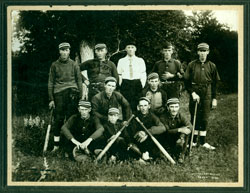 2010-P-004 Pleasant (ND) Baseball Team Portrait
1908
Black and white portrait of the 1908 Pleasant ND baseball team. (1 item)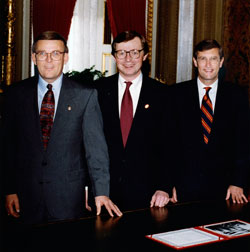 2010-P-005 North Dakota Congressmen
n.d.
One color and one black and white photograph of Byron Dorgan, Earl Pomeroy and Kent Conrad standing behind a desk with a proclamation. (2 items)
2010-P-006 Kundiger Family
ca. 1880s-2004
Black and white, color photographs, and tintypes of the Kundiger family from the Lignite and Flaxton (ND) area. Also photos in MN, WI, and Germany. (2,303 items)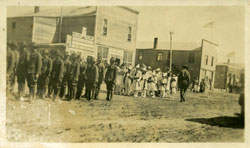 2010-P-007 Parade of Soldiers, Kintyre, ND
1917
Black and white post card of a parade of soldiers with children following through the business district in Kintyre (ND). (1 item)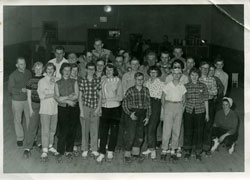 2010-P-008 Roller Skaters
1940s-1950s
Black and white photograph of a group of teenagers with roller skates in a roller rink or gymnasium, location unknown, ca 1940s-1950s. (1 item)
2010-P-009 Jan Nelson
1890-1950
Black and white prints and cabinet cards of people with noted family names of Rueter, Koppmann, Ford, Towne, Bloom, Sutton, Sewell, Pearson, Harrimar, Carpenter, Taylor. (55 items)
2010-P-010 Edward E. Heerman
1890-1950
Black and white photographs,black and white negatives, four color prints and postcards including images of the Minnie H steamboat on Devils Lake (ND), Minnie H Heerman for whom the steamboat was named and her daughter Halecia Naugle, Edward E. Heerman and his parents and grandparents. (48 items)
2010-P-011 Jacobsen Family
1910-1930
Black and white photographs from Albert A. Jacobsen including a portrait of Albert Jacobsen, two photos of Sigma Nu Fraternity of University of North Dakota 1928, the University of North Dakota Band, and a photo of the Carl Jacobsen Family in Minot ND 1911. (5 items)
2010-P-012 A. H. Erickson
1905
Black and White panorama photos, one of the State Legislature 1905, Photo by G. H. MacDonald, the other of Bismarck ND in 1905 by A. E. Boyce. (2 items)
2010-P-013 Finley, ND
1909
Black and white circuit panorama photo of Finley ND by Brainerd. (1 item)
2010-P-014 State Agency Portraits
1889-1960
16x20 black and white and toned portraits of Commissioners of Agriculture and Labor, State Livestock Sanitary Board member and the U.S. Senate Chairman of the Committee on Agriculture A. J. Gronna. (11 items)
2010-P-015 North Dakota Postcards
1901-1920
Real photo and printed postcards and images of various towns in North Dakota including Brocket, Devils Lake, Elbowoods, Fargo, Grand Forks, Hartland, Hatton, Hillsboro, Keene, Mayville, Northwood, Perth, Pleasant Lake, Portland, Rogers, Rugby, Schafer, Taylor, Velva, Watford City, Williston, and Willow City. (40 items)
2010-P-016 Dravland Family
1900-1940
Black and white photographs of people and buildings associated with Dravland Family, Carbury (ND) and Landa (ND). (7 items)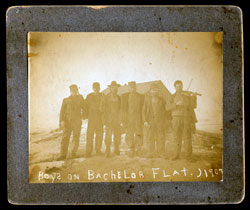 2010-P-017 Zahl, ND
2003
Black and white photographs of Zahl (ND) collected when an oral history was conducted by Claire Olson; also a cd of the photos. (37 items)
2010-P-018 Edward Hoverson and Chris Paulson Family
1900-1940
Various types of photographs, including group photos, snapshots, and post cards. (25 items)
2010-P-019 R. T. Lyman
1930-1950
Black and white photographs of R. T. Lyman family, ranch and livestock in Brittin ND. (7 items)
2010-P-020 Thompson Family
1900-1970
Photographs of Inga (Thain) and Katherina Thompson tracing their time at home, attending Concordia College and traveling throughout United States and overseas. Also a packet of 13 photographs of Senator A. N. Lavik by Rembrandt Studio in Bismarck ND. (4 albums, 3 loose photos)
2010-P-021 J. Alfred Fisher
1900-1930
Album of images from the J. Alfred Fisher family that farmed and lived in Dickinson ND. Images cover his time at Aker Business College in Fargo (ND) 1911, visiting in Bismarck (ND), Indian Police in Belcourt (ND), Hillsboro (ND) 1919, Army cadets shipping out to Washington DC, and overseas in France, devastation caused by a tornado, and students at the Agricultural College in Fargo (ND). (1 album)
2010-P-023 Dale Huddleson
1960-1980
Photographic prints and slides taken by Dale Huddleson, an amateur photographer with many awards who won many state prizes. Subjects deal with wildlife, old buildings including outhouses, churches, schools, state and local parks and museums, forts and historic sites. (215 items)
2010-P-024 Carl R. Kositzky Jr.
1930-1955
Black and white photographs and a post card of the ND capitol fire, architectural drawing of the proposed capitol, cornerstone, cornerstone laying ceremony, capitol construction, family photograph in Grand Forks, and construction of Bismarck Junior College, taken by Carl Reinhold Kositzky Jr. (1909-1984) of Bismarck. (33 items)
2010-P-025 James G. Malloy Family
1890
Photographs of the James G. Malloy Family. (16 items)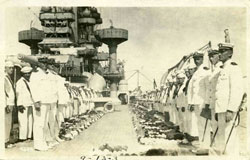 2010-P-026 Edward Campbell USS North Dakota
1919-1920.
Post cards and three photographs of the USS North Dakota, its crew, and stops in Cuba, Barbados, Gibraltar, Italy, Malta, Greece, Constantinople, France, Spain, and Panama. (161 items)
2010-P-027 Peter C. Moe
1890
Glass plate negatives taken by Peter C. Moe while living in McKenzie County of people and places in the county. (321 items)
2010-P-028 Rice and Goff Family
n.d.
Images of Rice family from Pettibone and Jamestown, Charlie Goff of Spiritwood, of the family home and trips to Iowa, South Dakota, Nebraska, Minnesota, and Washington as well as images from Woodworth ND. (98 items)
2010-P-029 John J. Stempges
5X7 and 8x10 glass plate negatives of communicants, families, open casket funeral, and buildings in Balfour and Velva ND. (63 items)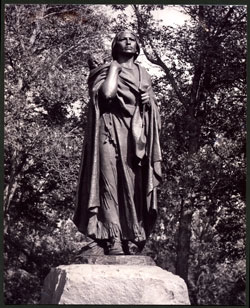 2010-P-030 Sakakawea Statue
1930
Copy of image taken by Lawrence Crunelle in the 1930s, whose father, Leonard Crunelle was the sculptor. (1 item)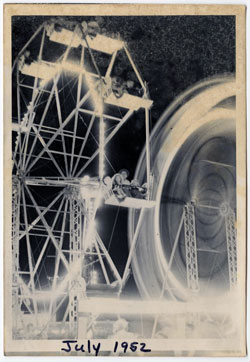 2010-P-031 Wells County Fair
1907-ca. 1960
Black and white photographs of the Wells County Fair by photographers Landseer, Edward E. Weiss and others. (81 items)
2010-P-032 William L. Watson
1905-1922
Glass plate negatives of people standing on top of farm buildings surrounded by snow. (2 items)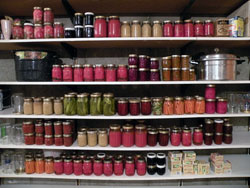 2010-P-033 Alvina (Leier) Frohlich's Pantry
2009
Digital photographs of Alvina (Leier) Frohlich's pantry which were donated to be used in an SHSND exhibit on Gardening (North Dakota: How Does Your Garden Grow). . Pantry was located in Alvina (Leier) Frohlich's home at 1524 North 20th Street, Bismarck ND 58501. (9 items)
2010-P-034 Truax Coal Company Mine, Columbus, ND
1950-1960
5x7 matted prints of Truax Coal Company mine operations in Columbus, ND photographed by Neil Landsverk of Minot ND. (4 items)
2010-P-035 Helen Blaich
1900-1920
Glass plate negatives that Bob Barr received from Helen Blaich that might be from Nancy Hendrickson, mostly unidentified portraits--many of the images are defaced.(32 items)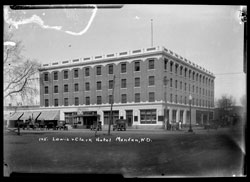 2010-P-036 Mandan, ND
1918, n.d.
Flexible film negatives and glass plate negatives of Mandan (ND) scenes including Equity Bank, Lewis and Clark Hotel, Hanging the Kaiser 11-11-1918, Peace Day 11-11-1918. (4 items)
2010-P-037 Baillie's Drug Store, Rugby, ND
1900-1920
Glass plate negatives that were in paper bag from Baillie's Drug Store Rugby ND. (9 items)
2010-P-038 Fort Abraham Lincoln State Park
ca. 1980
Colored slides of Fort Abraham Lincoln State Park site. Includes Custer house interior and exterior, barracks, the fort, and the site grounds. (12 items)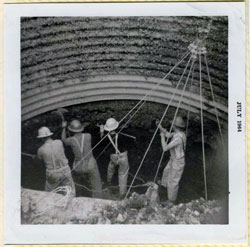 2010-P-039 Doug Johnson Oscar Zero
1964
Consists of 16 black and white photographs of the construction of the Oscar Zero Missile Alert Facility. The donor, Doug Johnson, was involved in the construction of the facility in 1964. (16 items)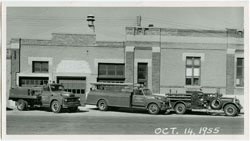 2010-P-040 Oakes Fire Department
1955
Black and white photograph of three Oakes Fire Department trucks outside of the station. (1 item)
2010-P-041 Henry Danielson with Threshing Crew near Roseglen, ND
ca. 1924
Black and white photograph of a threshing crew, ca 1924-1925, when the donor's father Henry Danielson, worked on a threshing rig near Roseglen, ND. (1 item)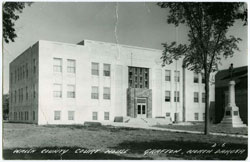 2010-P-042 Walsh County Courthouse
ca. 1946
Black and white post card of the exterior of the Walsh County Courthouse, Grafton, ND. The stamp on the back of the post card is dated March 27, 1946. (1 item)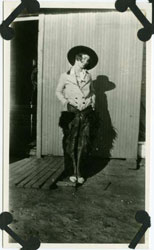 2010-P-043 Olivia Hamre
1928
Black and white photographs of Olivia Hamre, dressed in a western outfit. In one photograph, she is with her dog. (3 items)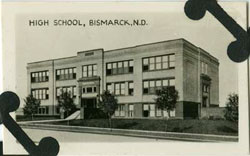 2010-P-044 Bismarck Scenes
ca. 1928
Black and white photographs of scenes and buildings around Bismarck, ND. Probably Burt Finney photographs. (10 items)
2010-P-045 Schock Family
1952-1956
Photographs and post cards, mostly of Wilbert Marvin "Willie" Schock and his travels while serving in the Korean War. Also includes photographs of horses and rodeos, and post cards of military barracks. (187 items)