00051 G. William Eckberg
1880-1891
Cabinet card images including a Witmer and Derby photograph of downtown Bathgate (D.T.), an unidentified group picnicking by a stream, and photographs by David F. Barry, including the Standing Rock Indian Police, a portrait of Sitting Bull, and images of Sitting Bull's house, tepee and family. (7 items)
00052 David Davis
ca. 1880s-1900
Portraits of residents of Bismarck, including E. H. Wilson, Warden of the State Penitentiary. (8 items)
00053 Custer Drama Trail West
ca. 1958
Images of the Custer Drama "Trail West," performed at the Custer Memorial Amphitheater in Mandan (N.D.), presented by the Mandan Historical Development Association. (29 items)
00054 Mrs. W. C. Burton
n.d.
Images of a Picnic at the H. Allen home, Lake Hester (N.D.), and James Pendroy. (4 items)
00055 A. B. Gilbert
ca. 1880s-1920
Includes images of agriculture, the Nonpartisan League, and buildings. Photographs were taken in Bismarck, Brantford, Buffalo Spring, Esmond, Fargo, Hekton, McKenzie, Pretty Rock, Williston and Wyndmere (N.D.). (36 items)
00056 George Teskey
ca. 1928-1961
Images of road and bridge construction, Knights Templar activities, family photos, and the Devils Lake Ski area. (1439 items)
10057 Henry Bogenrief
ca. 1904
Images of Miss Takes the Gun, Lucy Hawk Bear, the Oscar One Bull family, Pollock (S.D.), and a woman dancing by a lake. (12 items)
00058 Liberty Memorial Building Dedication
ca. 1924-1979
Copy photographs of the dedication of the Liberty Memorial Building, Bismarck (N.D.) on Armistice Day 1925. (25 items)
00059 Lulah Cavileer
ca. 1910-1920s
Photographs of Lulah (Lulu) Cavileer, Dr. Howard Simpson, George F. Forester, a monument at Pembina (N.D.), an unidentified pontoon bridge and Fort Garry, Manitoba. (27 items)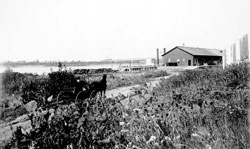 00060 Orin Grant Libby
1870s-1920
Photographs of American Indian artifacts found at archaeological expeditions, people from Hebron (N.D.), Minnewaukan (N.D.) and the Black Hills Expedition members from Grand Forks (N.D.).
For more Libby photographs see Photo Collection 105
00062 Harold A. Madison
ca. 1900-1915
Images of Van Hook (N.D.), Palermo (N.D.), Epworth (N.D.) and settlement scenes. (8 items)
00063 Theo Mattson
1890-1950
Images of Sanish (N.D.), Fort McKeen, the North Dakota Capitol Grounds, the Menoken Indian Village, and agricultural scenes, including several images of the Dalrymple farm (Cass County, N.D.). (25 items)
00070 Patterson Hotel
1860-1950s
Prints and post cards of the interiors and exteriors of the Patterson Hotel, McKenzie Hotel, Soo Hotel , Northwest Hotel and other buildings in downtown Bismarck, farm scenes, riverboats, prize fighters, North Dakota National Guard in 1899, and portraits. Images by David F. Barry, Holmboe Brothers, Andreas Risem, W. H. DeGraff, Butler Studio, and A. E. Boyce. (178 items)

00080 Bismarck Tribune
1930s-1970s
Images used in the Bismarck Tribune newspapers from the 1930s-1970s.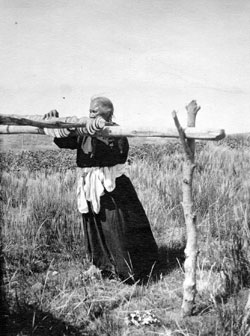 00086 Paul A. Ewald
1895-1957
Consists of prints and some copy negatives of several photographers on the Fort Berthold Reservation, primarily Gilbert L. Wilson, and also including Frances Densmore, Frank Fiske, Fred Olson, Sumner Matteson, and several unidentified photographers. Ewald wrote identification of many photographs in his collection based upon suggestions from the people of Fort Berthold. Images include celebrations and gatherings, dances, sweat lodges, Little Missouri camps, cradles, portraits, Buffalo Bird Woman, Wolf Chief, Goodbird, Indian crafts and skills, artifacts, wood gathering, gardening, food processing and cooking, earthlodges, bullboats, travois, and Indian cowboys. (1736 photographs)
00088 Daniel Webster Longfellow
1876-1924
Photographs by O. S. Goff and others of Fort Berthold, American Indians, buttes and North Dakota landmarks. (60 items)
00089 Marion D. Connolly
1880-1920
Photographs, post cards, and a funeral card of the Louis and Daniel Connolly families who homesteaded in the Hensler (ND) area.
00090 W. H. Brown Land Company
1903-1946
Photographs of Flasher, Mandan, and Mott (ND) farms, produce, and related subjects. (154 images and five photograph albums)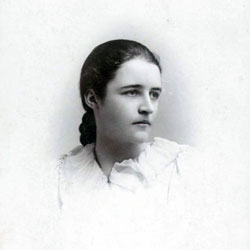 00091 Fannie Dunn Quain and Eric P. Quain
ca. 1880-1940
Consists of six family albums made up of cartes de visite and many loose portraits. Also included are post cards and photos of Montana, South Dakota and North Dakota Indians, nuns, and Indian students from Fort Yates, St. Alexius, and Bismarck; some Frank Fiske photographs; and resort areas in Montana, Wyoming, and Colorado. Another topic features a series of cartoons of 'Teddy Roosevelt's hunting adventures in Africa.' There are many unlabeled small snapshots of various places and travels, some rodeo pictures, and a photo of the first all woman jury in North Dakota. (6 albums)
00093 W. C. Haas
1893-1955
Photographs of the Haas family, primarily in Dickey, Emmons, Hettinger, and Towner counties. (341 items)
00094 Dullam Estate
1880-1937
Portraits of the Dullam, Knowles, and Close families. (142 items)
00096 Irrigation
1914-1959
Images of irrigation measures used across the state with dams, drainage ditches, and pumping plants for agriculture, recreation, and to mitigate flooding. (236 items)
00098 Marquis Des Mores
1895-1943
Images of the DesMores in Medora, Dakota Territory and the Von Hoffmann family in France. (92 items)
00099 Louis B. Hanna
1899-1959
Portraits of Governor Hanna and his family, photographs with the Norwegian President, at the presentation of the Battleship North Dakota silver service, and at the Panama-Pacific Exposition. (146 items)