The State Archives has pre-1925 marriage records from the following counties: Barnes, Emmons, McHenry, Morton, Steele, Walsh, and Ward. Paper indexes are available for Adams, Hettinger, Kidder, Richland and Williams. The State Archives also has some church records containing marriages and they are cataloged in ODIN.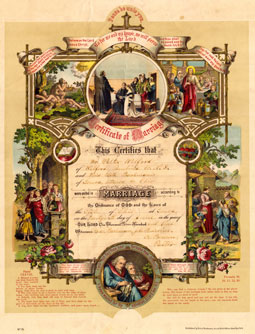 There is an online index to Stutsman County marriages. The NDSU Archives has a marriage index for Cass County through 1944. The Department of Special Collections in the Chester Fritz Library at UND has a marriage index for Grand Forks County through June of 1925.
Marriages from all counties after July 1, 1925, can be located on the Division of Vital Records index, which is available in the Orin G. Libby Reading Room. Effective January 1, 2008, all certified copies of marriage records must be issued by the county where the license was originally purchased and filed. Please contact the appropriate county to obtain a certified copy.